Pre-Spiel
Wew I was lucky to finish this adventure!
General chatter about bike adventures in my trail running group and an offer from one of them – Matt who completed the last Tour Aotearoa in 2018 – offering a helping hand with equipment, lead me down the path 6 months out to assume a spot on the start list for 23rd February 2020. I knew nothing about the dyno gear, eTrex and funny Jones Bar that Matt put in front of me but they turned out to be invaluable.
Carbon offset and charity donation made to full-fill the entry requirements, now for the training! Ah, what training? I decided that training should comprise things I like/wanted to do, rather than actual training.. In case say, I sprained my ankle pulling the bike out of the car at the start line I wouldn't be disappointed for time and effort wasted. (This is not a solid training plan to follow FYI). What's going from 90km a week to double that PER DAY for some 3 weeks anyway!?!
Family pre-trip for 2 weeks around NZ's North Island complete, I got the bike out of the car at the start line just fine so the reality was, it was all systems GO!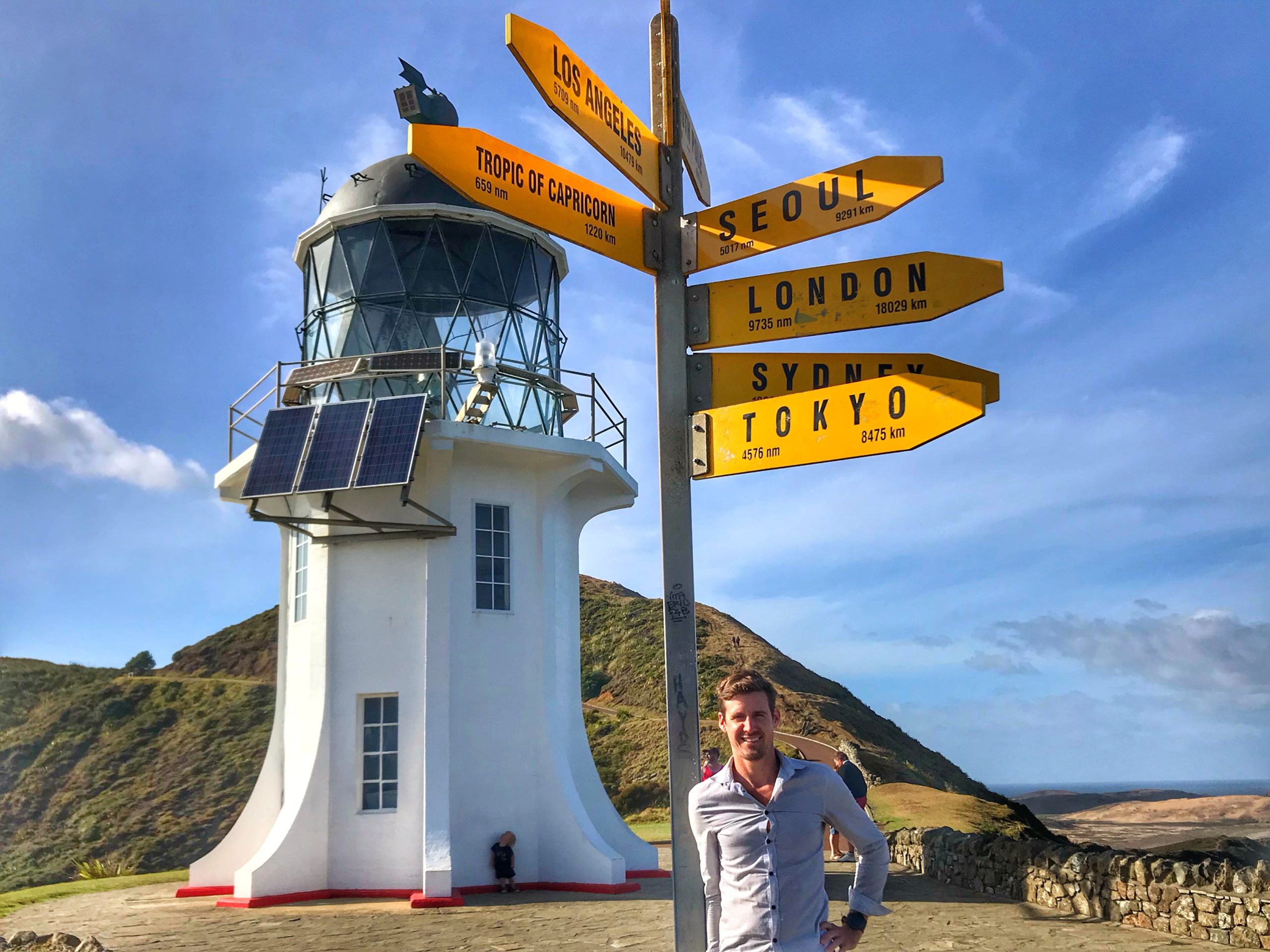 The Race (It's not a race)
Day 1 – 102km – Cape Rengia to Ahipara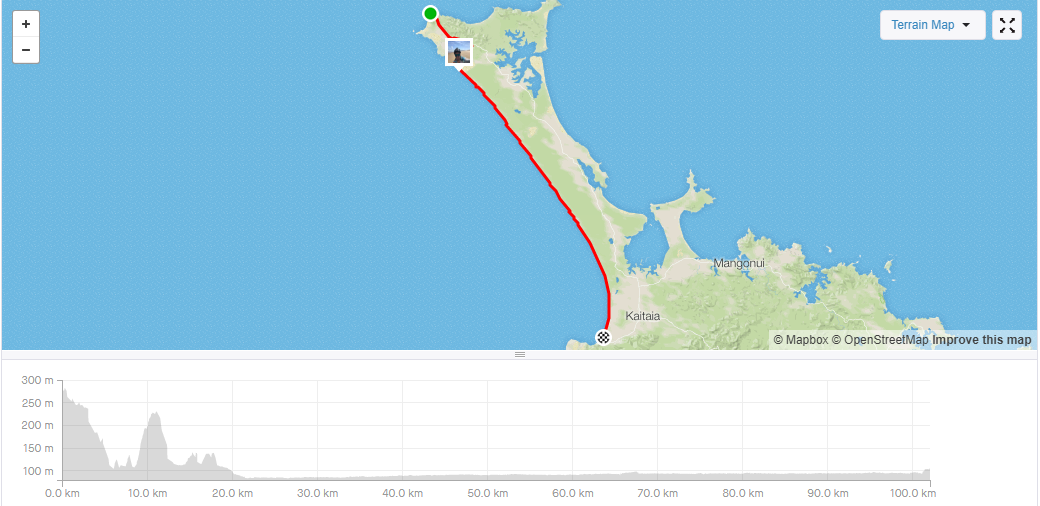 Start photo taken at the Cape Lighthouse (1 of 30 required to officially complete the TA), it was a long wait of nice chats from the 9:30 arrival until the 1pm official start of our wave. Others saw it too long a wait (mostly due to being a 'windy day') – by time the GPS tracking man dropped the flag at 1pm, it appeared of the 100 starting, about 80 had already jumped the gun!
Out of the gate 3 of us held a steady lead, and off the front was a fast cat on a CX bike which was a much faster weapon than my dual suspension MTB. Mind you the plan was to take this first part easy vs. burn out early. Well I didn't think I was pushing it but here we were, 1 hour later off the tarmac and onto the beach and already passing early starters.
Any hopes of whizzing down the beach were dashed (the day prior I cheered on the 12pm wave which had a tailwind and everyone was all smiles) – I knew it was a windy day but oh my! Our luck had it that the wind would push 25k/hr directly into us!! These horrible conditions would bite hard as 9kph was the top speed when solo – all you could hear was the wind roaring into your ears, you could feel the wind actively slowing you down, and you could see the soft dry sand skipping quickly over the surface towards you whipping into a frenzy. It was going to be a long day!
There was a bit of group hopping until a solid pack formed of some 12 riders; we all lined up diagonally across the beach bumping tyres huddling for the best wind block spot like the TDF! Working to the front, the second spot was just as tough as being the first leader of the pack – it was really really hard work at the front at maybe 16kph, which gradually faded over about 1km when the inside guy would start overtaking and I knew it was time to retire to the back.
There were a few things of note with this 90km beach ride:
The pack was far too quick for my abilities, they were all on faster gravel bikes which flew down the hard sand
I was worried about losing the pack which was actually making progress, so I neglected that it was too fast and I wasn't drinking or eating enough (I tried to call a stop but it didn't work!). Added to the wind noise and concentration, a headache was inevitable
The 9/10ths pace reminded me of working hard at home so I was also somewhat in my element working to hang on
I planned to end the day past the end of the beach so I wanted to get off as soon as possible
As the light faded after sunset, the twinkling lights of salvation – Apihara Town – appeared through the sandy beach haze. Ahoy we finally made it!! After all that work!! I was elated, there were about 6 of us left (including the CX rider – Matt) and we rode off the beach together as first off that day. I could have kissed the ground – that was 7 unbelievably challenging hours, and one fierce introduction to the TA.
(I immediately abandoned any plans of going further(!!) and sought the only campground in town. Getting the second last bunk available I rolled into bed after fish and chips and stretching, well before most got off the beach at 10pm. Others even spent the night on the beach).
D1 Casualties: Suspension lockout cable pulled out of housing
Day 2 – 199km – Ahipara to just past Dargaville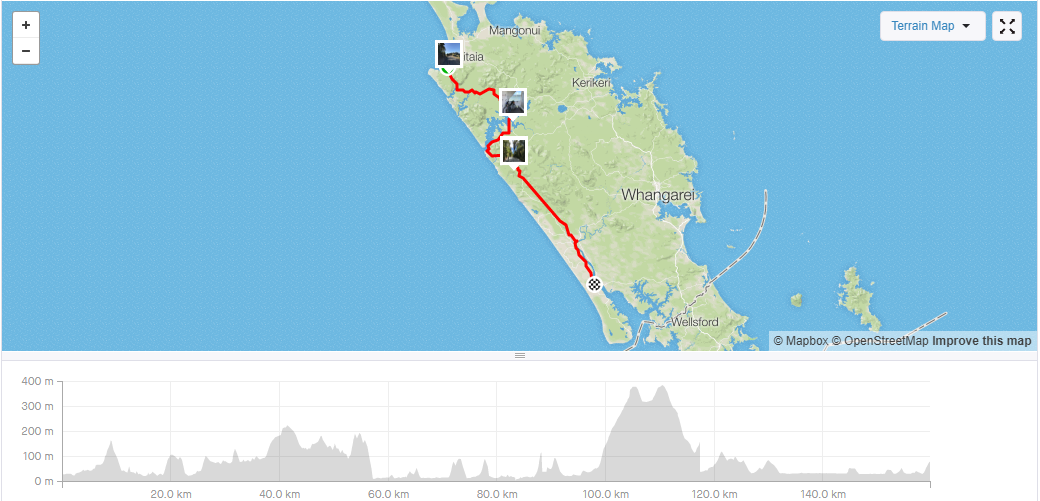 Starting early at dawn after a great sleep, there were no riders about but our friend the headwind was still around, albeit less ferocious. It was amazing to be riding on the road in the 17-20kph zone after the slog of D1!
Second breakfast was a quiche along the way at a random convenience store and some other riders appeared. Here Andy from our starting 3-pack would be my buddy for a couple of days which was really nice.
A bit of gravel up and down to give us a taste of the many days to come, before we descended to grab the Hokianga Harbour ferry. At a quick stop for coffee, they said they wouldn't give us any drinking water to fill bottles because of water shortages in the area! I wondered what they drink.
In the midday baking sun we were in a truly beautiful area riding on a road next to the wide open Hokianga Harbour, eventually stopping for lunch at the Beach Takeaway, set on the side of the road looking out to the ocean. In that hot moment it would be one of many midday stops I was reluctant to leave, particularly here since the staff waved us off saying "good luck up the big hill". Turned out there was 1 big hill out of town, but that was only the start…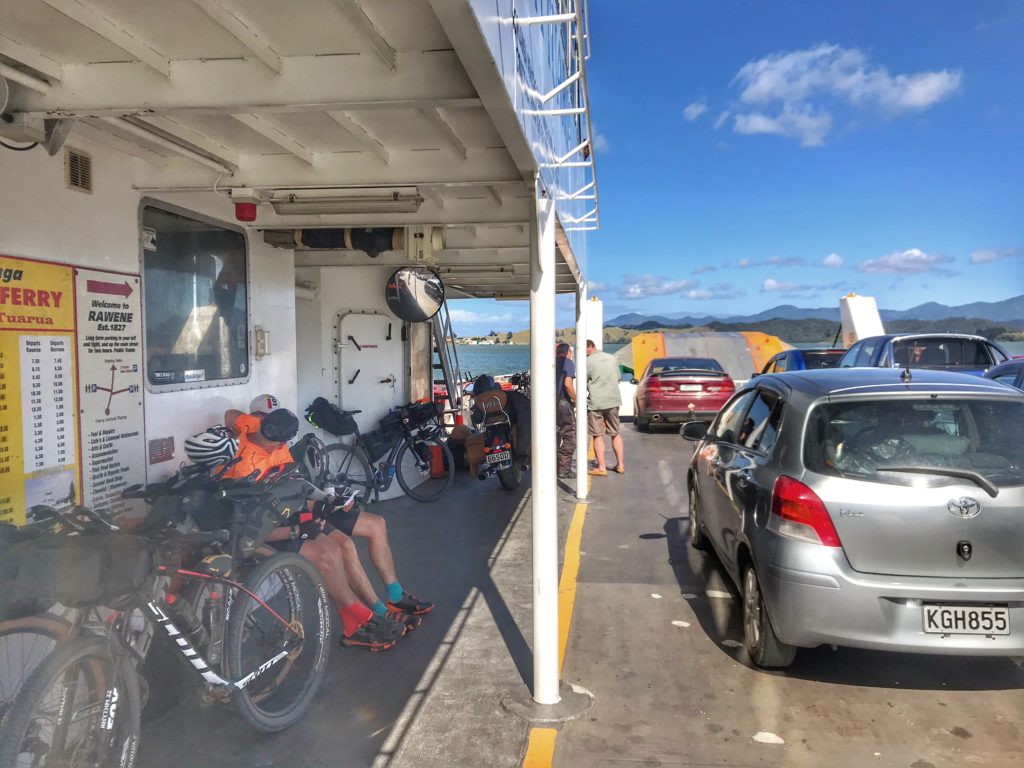 To get to the next photo point required a huuuge amount of climbing.. Maybe this was the hill the lady spoke of? Ah well, it's the TA, the whole thing is about hills. Hail at the top – the Lord of the Forest, Tane Mahuta, a 14m wide/51m high, ~2,000 year old tree.
Racing downhill, we sought the free reward of all that climbing, squashed by one of NZ's other gems – endless roadworks. (I kid you not, there are roadworks everywhere, even in the most remote parts of NZ).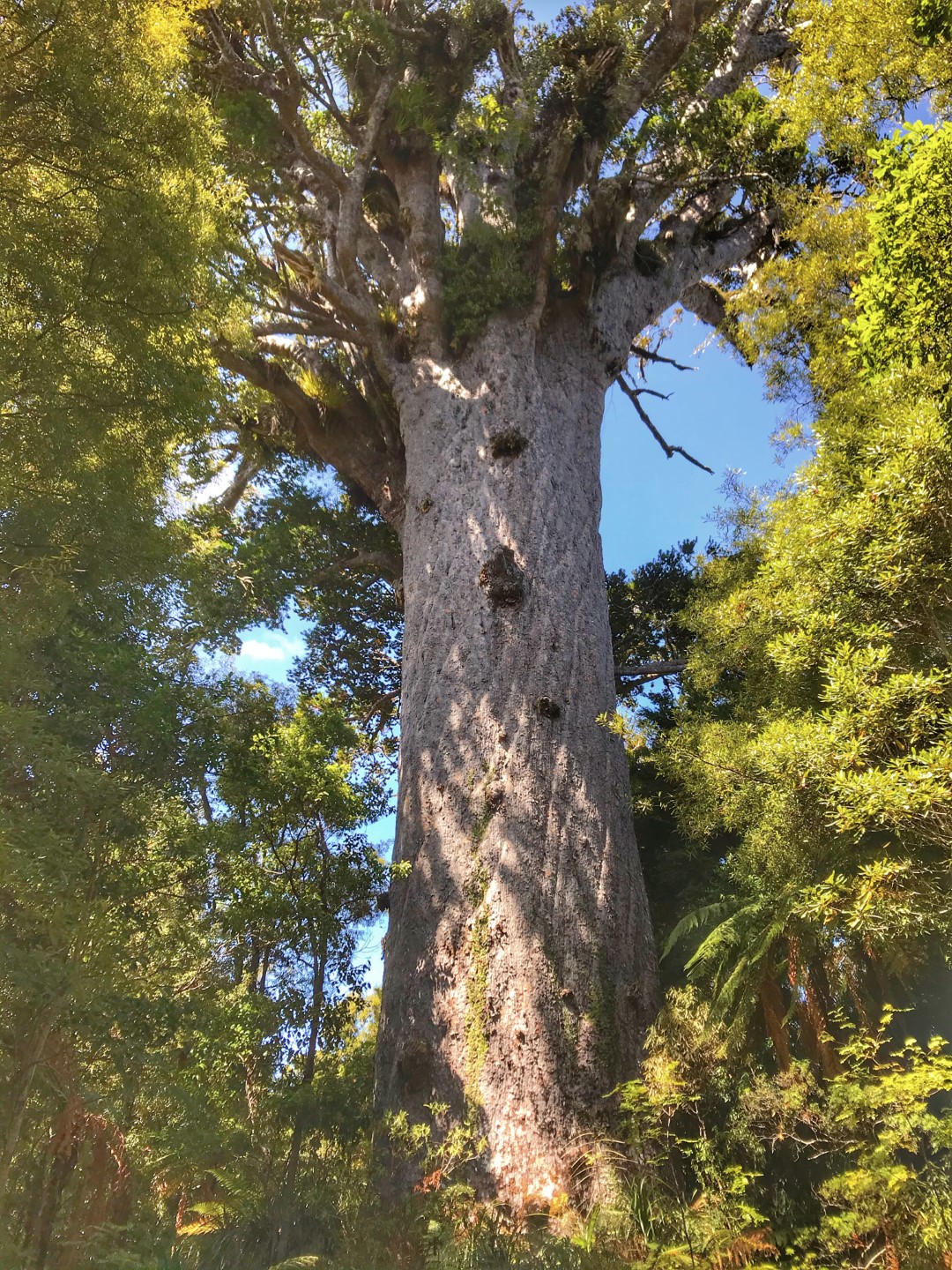 After more gravel, it was a late afternoon arrival into Dargaville where large eyes and empty bellies saw us stock up at Woolworths/Countdown in preparation for a feast later after knocking out some more kms.
We pushed on out of Dargaville until just before 9pm, finding a grassy paddock to setup for the night. It was nice having a huge spread of bread, potato salad, whole chicken, creamed rice.. All between 2 of us, but soon to be a burden of waste to cart away on bikes!
A huge day, it was a little more than planned but we had a boat booked that we had to get the next morning. General comment was the butt was very sore after 2 days of uncharacteristic riding..
D2 Casualties: Bike fell over and chipped a chunk of foam out of my helmet. Water bottle cage partially broke off. GPS not recording correctly.
Day 3 – 147km – Outside Dargaville to Outside Clevedon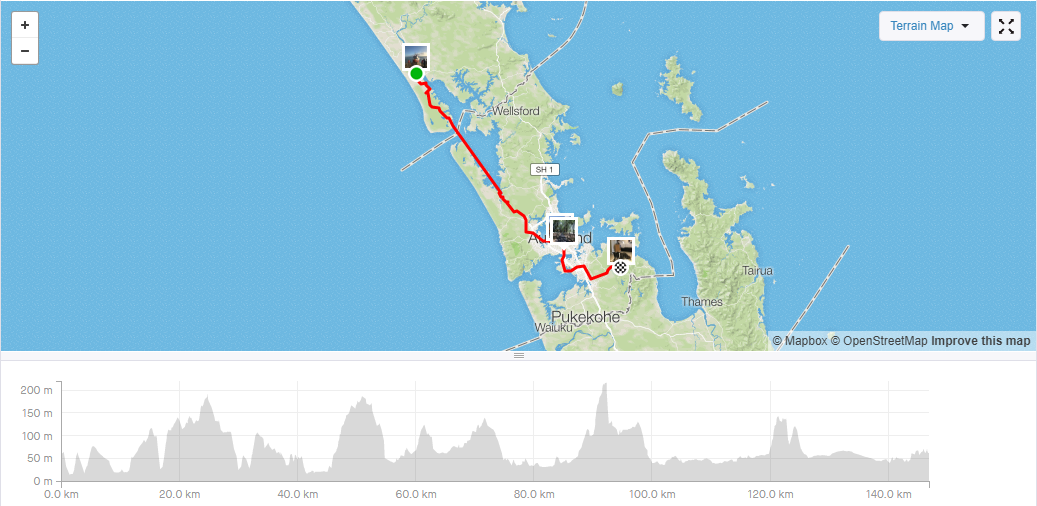 We were up pretty early, leaving ~3am, but we weren't the only ones; the logging trucks from the forest we were about to traverse had also started.
We timed our arrival to the start of the really rough dirt logging road to coincide with a fully laden truck coming the other way that would absolutely cover us head to toe in dust. Mind you, that was just the start! Later on, two logging trucks passing each other added a new dimension to getting blanketed!
This dirt road was incredibly bad due to the heavy truck corrugations and at one point of vibration Andy lost both of his two front lights going downhill, somehow managing to save himself from a dark crash. It was a nightmare road that went forever, but the whole TA thing is about challenging road surfaces right?
Joined by 2 other NZ guys from the wave (Bruce and Richie), we keenly counted down the slow kms to when this tough little part of the adventure would be over, reaching the boat point at the Te Kopuru beach around 6:30am for the 8am pickup. Time for a little rest as the sun started to creep up and the boat arrived, then all hands on deck to help load the bikes and we were away!
The 3 hour trip was a great way to rest, get some history from the captain, and have general chats with other TA'ers including hearing from CX Matt about his 2000 km of training in the couple of months leading up (My whole 2019 total was 4,200kms!). Of our 23rd Feb start wave, it appeared that of the 30-40 on the boat, just the 5 of us had made it ("not a race").
Unloading at 12pm that biting sun was just too much, we all headed off at different paces out of Parakai/Helensvale and hit the rolling hills towards Auckland City. After the little boat nap I felt quite refreshed and really enjoyed this part into the city, and up Mt Eden for an afternoon view over the city.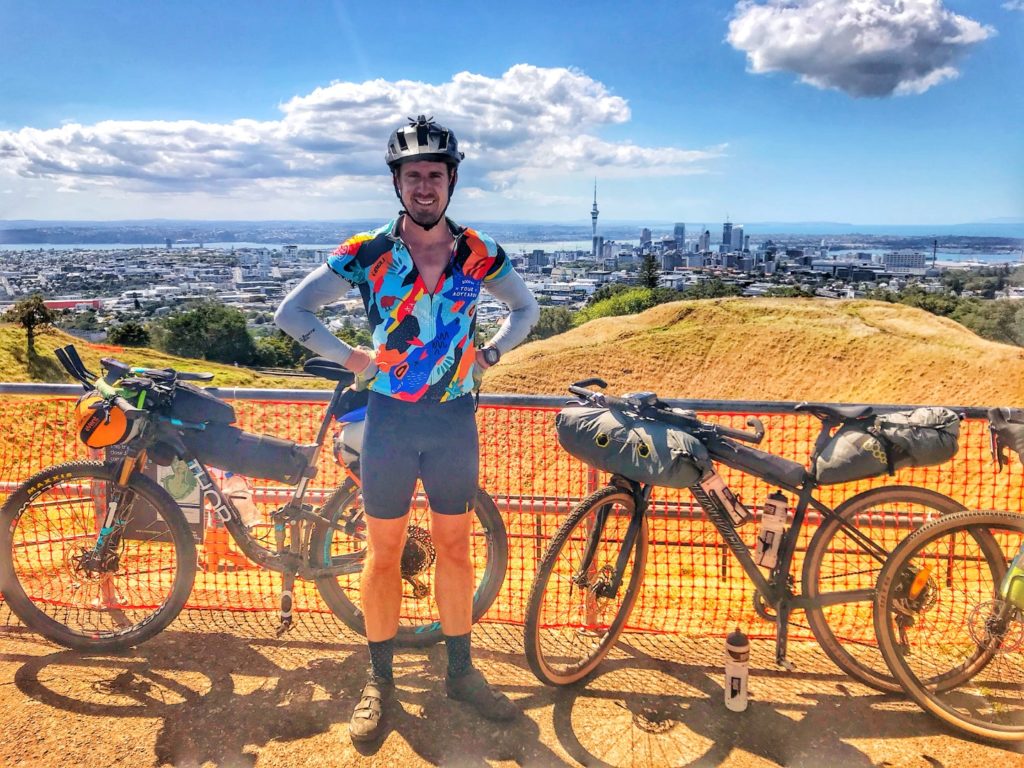 Whizzing down the hill and off to an unplanned end that day, I soon bumped into a few other TA'ers and formed a 4 person conga line as I guided us through and out of town (having the eTrex GPS navigation was immensely helpful over booklet maps in the forever twisting and turning city route). They played their part – here the route would split coast/inland and following the GPS I would have instinctively gone inland and they flagged me to turn. Taking the coast route was highly rewarding the next day.
Fortunately in our impromptu group a couple of the riders had accommodation for the night (one of their friends knew someone who knew someone bike friendly) so we decided to all crash the place to see if 2 arranged beds could become 4.
In the evening glow around 7pm we arrived to Ness Valley at a magnificent modern rural home. It was paradise! After a hugely dusty day the offering for all of us weary travellers of a shower, real bed, and clothes washing was just superb!
Day 4 – 159km – Outside Clevedon to Matamata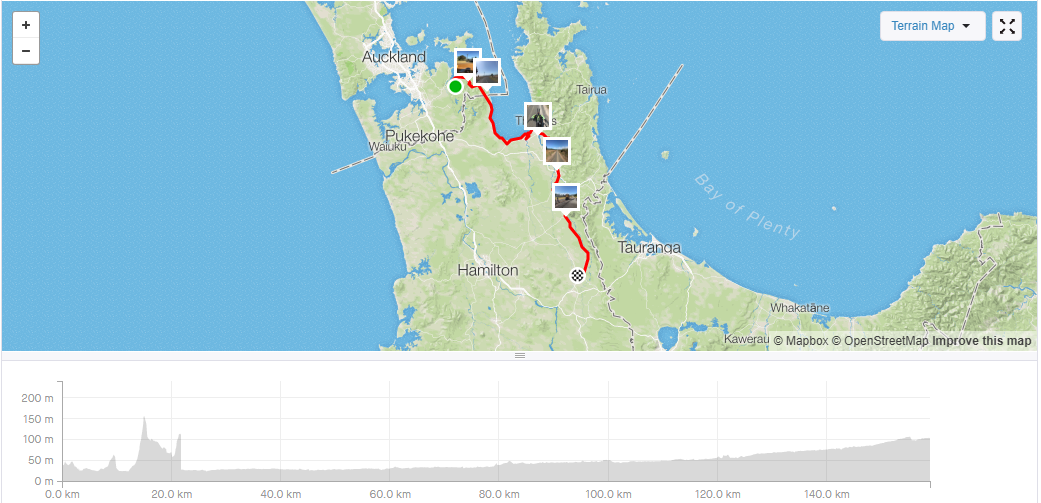 Any hopes for a planned early start were dashed, the real bed vs. the bivvy for 4 hours the night before played on my mind about recovery, and after all it was a "holiday"!
Sometime after 8am I hit the road and soaked up the early kms (20+ min wait at some roadworks also not bothering me at this stage!). I only made it to the picturesque Kawakawa Bay for a coffee at 9am, to restart again and head around the equally picturesque Orere Point overlooking the Firth of Thames for breakfast at The Pink Shop in Kaiaua with some other TA riders. This was more the pace of the TA I had planned! Slow starts, ~150km/day, lots of coffee and food stop with other rider chats amongst the nice scenery! Somehow, I lost my way with this overarching "plan"..
The end of the coast road converted into a lacklustre ride skirting mud flats on a slow going gravel path, eventually turning inland to head straight down the Hauraki Rail Trail which was much more fun.
After a stop for a nice lunch, I was caught up by a TA'er I met at the Pink Shop earlier – Rocket Rod on a very fast gravel bike. He was flying and I jumped on the back to grab some of his speed – of the 30kph he was doing above the 20kph I usually did, I was working for 6 and he was pulling me for 4 of those. It was probably a bit too much!!
Eventually Rod peeled off for the day, and I was joined by Bruce and Richie from the day earlier. I've now worked out the moment when I lost the "plan". Rod and I had flown past them as they rested and they had worked hard to catch up – riding the rest of the day with Bruce and Richie, I found out they were multi-sport guys and very competitive! Slip of the tongue they called it a 'race' and mentioned an eye on the GPS tracking for the positions of other TA entrants. The great Aus/NZ (friendly) rivalry had begun!
The afternoon and evening ended as the 3 of us rolled into Matamatta, straight to the pub to grab a bed for the night – it was a $20 difference to have a whole room vs. a backpackers dorm nearby. Easy choice!
D4 Causalities: Vague TA plan to take it cruisy
Day 5 – 155.4 km – Matamata to Pureora Camp (Timber Trail)
I woke up before my alarm to the metal clinking of cleats down the back fire stairs of the pub accommodation – Bruce and Richie were trying to be quiet sneaking out with their bikes! I slept in the extra 30mins until my 6am alarm and luckily the overnight rain was easing by then and was light enough to be bearable.
A CP snap taken at the Hobbiton iSite (Tourist Info) I was off on a really nice ride in the misty rain, early dawn light, and beautiful lush fields in the area. Riding alone sometimes is perfect; this was one of them.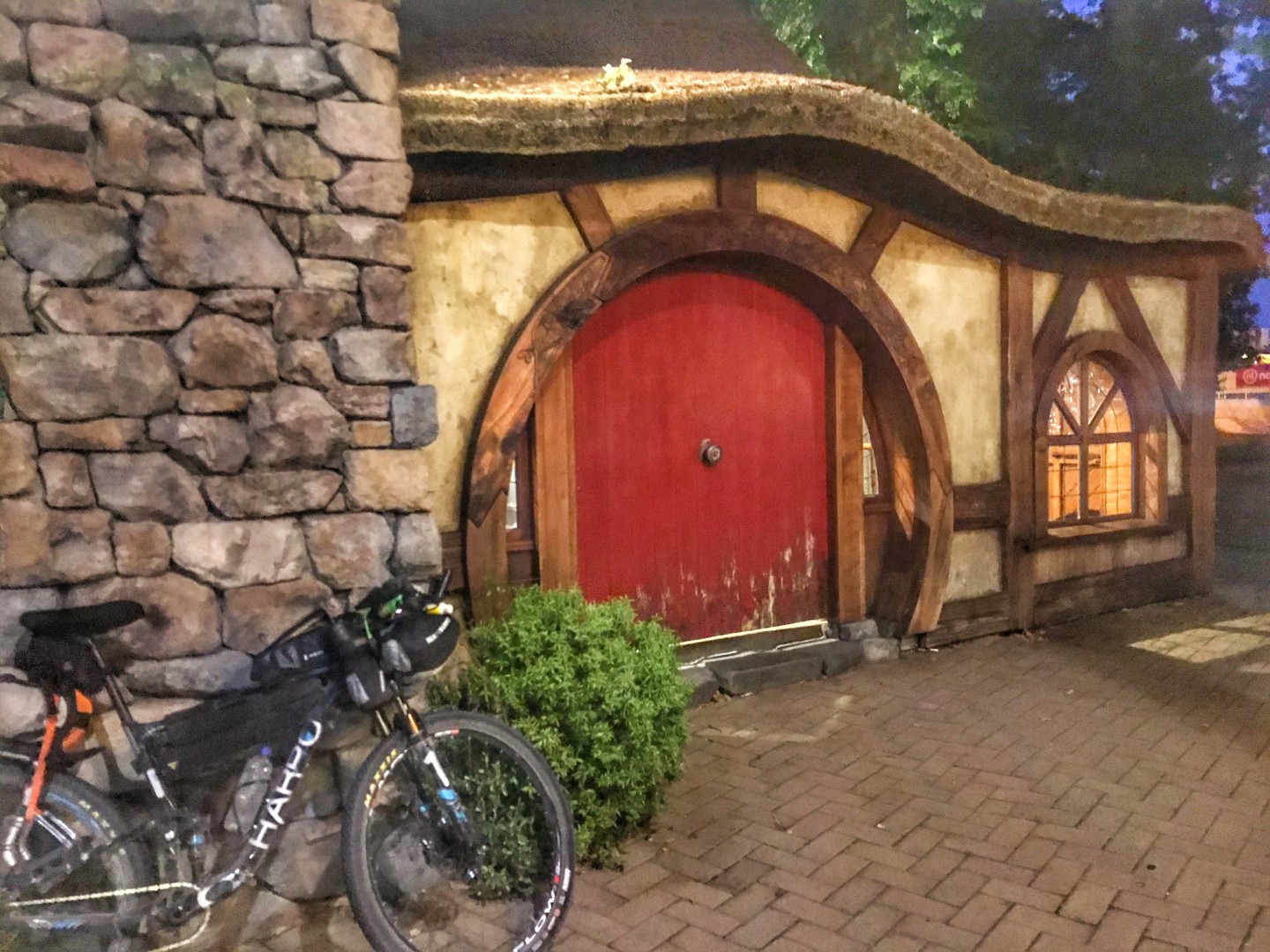 Eventually I came across the other boys and we rode together for a little while until they stopped and I carried on down the very busy State Highway buffeted by huge trucks – the rain had eased but it was a dark and gloomy day and all bike lights were on and flashing!
Luckily the light rain and Highway ended soon enough, turning onto a bike trail that formed part of the Waikato River Trails.
Now, this was really great fun! Swooping past the camp site (which looked really nice) at the start of the main section set on the tailrace from the Arapuni Dam, the trail meandered pleasantly up and down through lush trees and through small dips and crests. It was a fast, easy and enjoyable way to make progress.
Towards the end of the first section is a controversial cafe – the Rhubarb Cafe. The food and coffee was an excellent breakfast well overdue at 9am, and I confirmed the reputation of the cafe when I asked the lady owner "I suppose you have TA riders at the door all ready to go for when you open at 8am right!?".. She responded; "If people are here waiting that's their problem they can't organise and time themselves properly!". Yikes, OK!
Bruce and Richie caught up and we chatted over our coffees about the next section of the River Trail which was announced as closed due to some land slips.
It was sad to cut out the next section of the formal TA Route, and so when we pushed on it was via the 'road alternative' as a series of dirt farm roads meandering through the hills nearby to the river, eventually joining up to the Waipapa Dam/wall. I took a sneaky look back up the River Trail on the other side to get a feel for what I missed out on, but soon enough a set of stairs had me lazy enough to turn around and so I sat down for some lunch in the rainforest.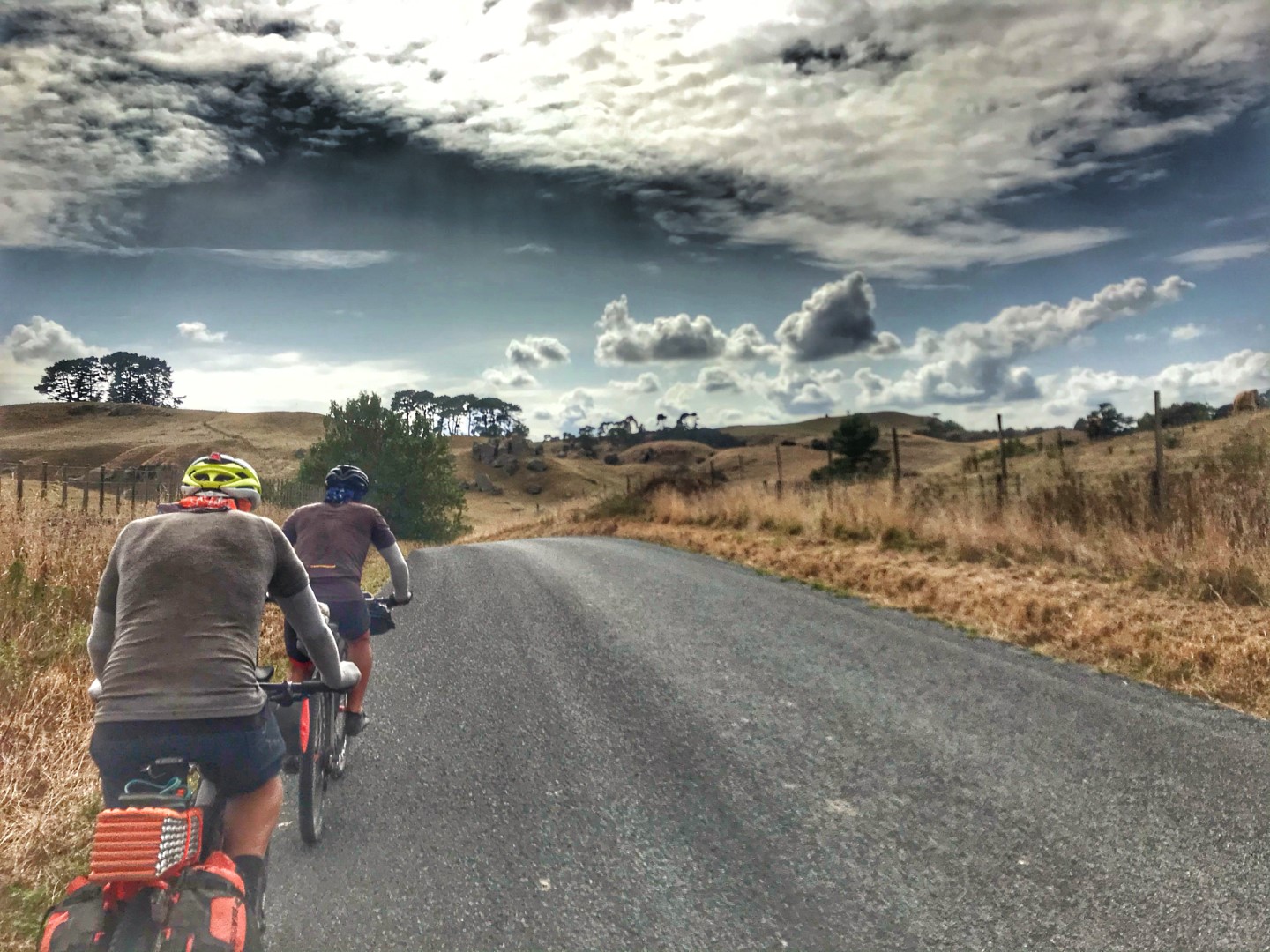 Back following the rest of the trail down from the dam wall involved some great single track, many small climbs and descent – again, lots of fun! After an hour and a half it popped out at the end of the trail at Mangakino, where there were a plethora of TA riders mingling between cafe / convenience / bakery shops and the like. I joined in the scurry around for supplies as I planned the night in the bush.
A quick dip of feet at the Lakefront, it was 2:30pm and I need to move on knowing the next ~50kms of off-road varied; it ranged from gravel to rough 4×4 track!
There were some really nice elements on the way to the Pureora Camp; a skinny and shaking wire bridge, single track, the centre of the island (CP), huge fire trail climbs and really fast descent, and finally, an antique tractor! Finding the tractor on dusk it was the start of the Timber Trail and I went a little way further to see if it was worth camping on the trail, to decide to return to the main road/Pureora Camp.
The campsite was fairly full and it was nice to chat to other TA riders, borrow some hot water off them for my Uncle Bens rice dinner, and setup a camp for the night. What I didn't know was my camp spot was a poor choice.
Day 6 – 130.24km – Pureora Camp to Owhango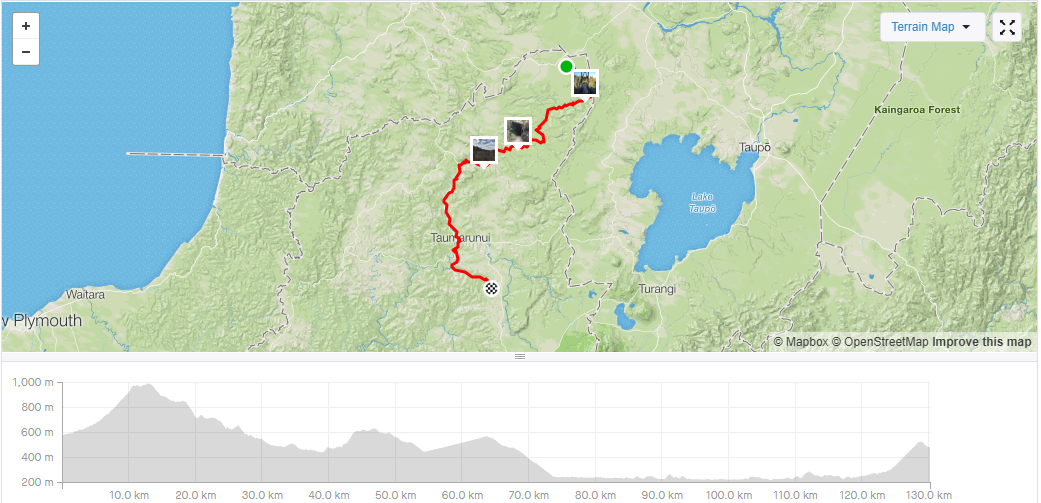 Call this sleep about 5x 45min intervals…! Due to the expected dew, some of us camped under the edge of a bunch of trees. I thought I had mozzies buzzing over head and hid further in my sack, then I thought it was flies, finally through the sleep haze it dawned on me that it was bees pollinating about 15cm above my face! It was just a horrible sleep of shuffling, thinking they would go away, and being lazy to not move. Terrible.
Pushing off puffy eyed, later than I wanted at 7:20am, the bright side of things was the Timber Trail was easy single track to get a groove and just fly! (60kms of it, and just about all downhill).
This was one of the few times I really appreacted the dual suspension as I tackled the first 50km hard, collecting some nice Strava positions and also passing Bruce and Richie, plus catching up on Matt to (for a very brief km) lead our wave. Good fun.
Towards the end the enthusiasm wavered as it got hot, terrain was just flat felled trees, the adrenaline wore off, and I got very hungry!
A quick dart to Ongarue after the end was entertaining as the Flashpackers accommodation owner Rem is a real character, and had a good supply of L&P.
The 24km winding dirt road next was a real slog as I was out of sorts from the lack of sleep, working hard, and short of fuel. Enter Taumaruni town and Mr Pizza willing me in – second breakfast and lunch at 2:30pm, yes I accept! A pizza down, Matt turned up and we chatted for a while whilst checking the GPS tracking – Bruce, I could see was only 10km behind. And I thought my tracker was slow to update as it showed me around the same spot – I assumed it hadn't updated.
Rolling out down the main street after our pizza, Bruce yells out from a supermarket across the street.. "Missing something Thor!?". It turns out the rough and tumble of the Timber Trail loosened my GPS tracker, which someone found on the side of a track, and happened to ask Bruce as he passed if he knew the owner written as "Thor" on the back, so he grabbed it. What luck!! Suffice to say I was very thankful.
Pushing on solo up the next hill aiming for Owhango I was still in a hole, and it was that dreaded time of baking heat in the afternoon. Reaching the top as the sun was setting, I saw a sign at the first place at the top of the hill, just outside Owhango – a bed for $30, and so I called it there. I was done.
(The owner was a farmer living behind this rustic Airbnb that 5 of us slept in, renting out double rooms, handing out beers, offering to launder clothes, and grabbing takeaway dinner for us! It also turned out I had $30 or a $50 in cash for a bill of $42, which he accepted just the $30 for, so it was really a great move to stay and he was a very kind guy).
D6 Casualties: Compression bag on front not secured well/high enough for suspension movement so tyres nudged holes in it.
Day 7 – 158.6km – Owhango to Whanganui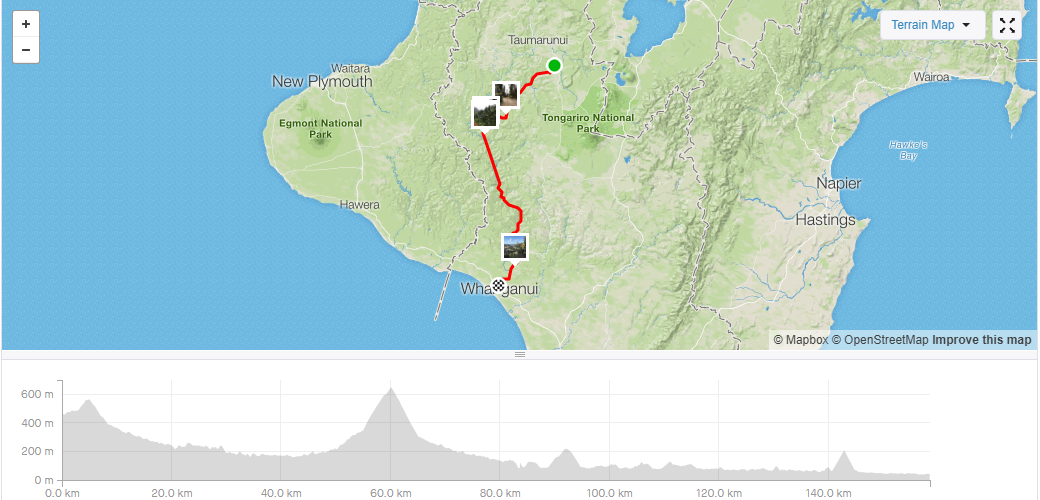 What a difference a bed and a good nights sleep makes! Wow I felt refreshed!
The farmer had said that I would need to leave at 6am to make Blue Duck Cafe for opening at 8am and then I would need to leave there at 8:30am to make the Jet Boat scheduled at 1pm. With this knowledge I was out of there spot on 6am and racing through the early morning darkness on the dirt road down to Blue Duck – en route spotting Bruce and Richie in a field packing up camp.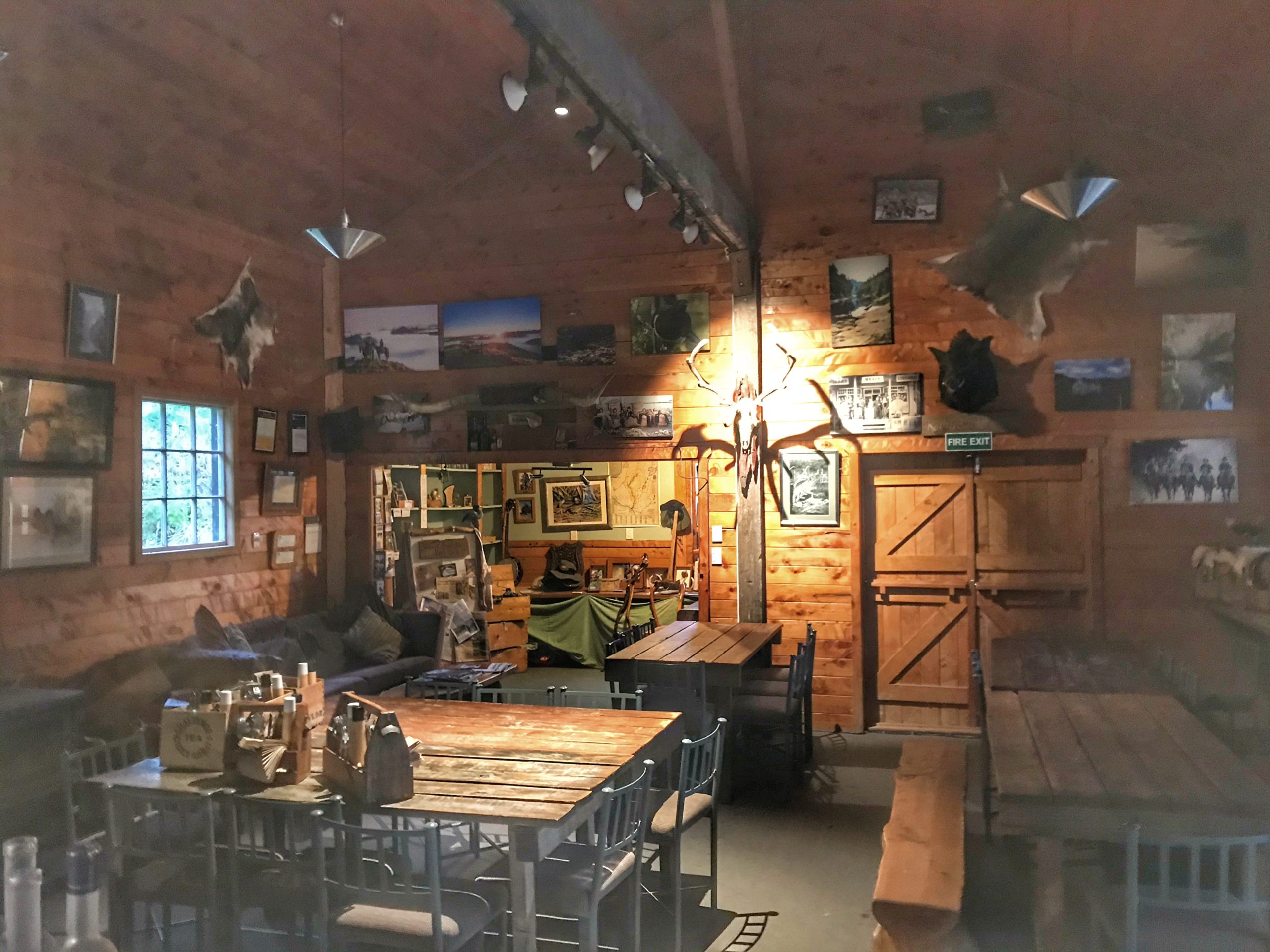 The day was gloomy and the much discussed pending rain between TA'ers looked like it was about to hit to I was keen for a very quick breakfast. Sadly with good intentions the poor lady at the cafe was solo and catering for a large group of kayakers – I tried to make her job easy and asked for the same thing they were having. It sort of worked and I left just before 9am and turned on the afterburners, flying in the cool misty air up to the Mountains to Sea trail to the "summit" Mangapurua Trig. Through the rain a sign suggested it was 3.5hrs to the Bridge to Nowhere, of which the boat pickup was a bit further along from that. Summiting at 10:30am it was time to push hard again, and miraculously I made the bridge just on 12am giving me and hour to finish the last 20mins. Phew! (Considering the poor conditions, collecting Strava's 2nd overall on mangapurua rd downhill at 34.7kph and 9th overall on TA Blue Duck Lodge Whakahoro to Bridge to Nowhere in 3:21:20 was probably pretty good).
In between the summit and boat, there was more to this decent; It was more than just rain, it was absolutely pouring!! Some of the track seemed to have had an excavator down it fairly recently which was good, but it got much more tricky as the rain got harder and harder, the descending wide trail disappeared. Luckily, the ground was soaking up the rain for the moment and was largely intact enough. Working hard I didn't bother with a rain jacket as I was keeping warm, scooting past many others stopped to cover up. Some hairy bits of thin trail sought bikers walk to traverse, and unfortunately for one, he fell over and broke a few ribs requiring a medivac.
The Bridge To Nowhere near the end has a great story and was a truly unique experience. Down below past the Mangapurua Stream in the Whanganui River, a jet boat awaited, so after some quick snaps it was a muddy track down to salvation. Taking another hour to fill up the boat was a freezing wait, and then an equally freezing ride for 45mins down the river. Mind you, that boat ride was worth every cent (and shiver), it was an absolute blast!
A quick lunch and bike wash at the end of the trip at jet boat HQ, it was back on the road (and thankfully road), to trundle the rest of the way 75kms via a few hills, into Whanganui. Luckily I stumbled across the guide book recommended hostel to bunk for the night (a walk around afterwards suggested a deserted town but surely the people were somewhere).
This was one long tough day, rounded out with 1L of ice cream before bed.
D7 Casualties: Frame bag zip split off rails, sunglasses went MIA.
Day 8 – 189.02km – Whanganui to Ashhurst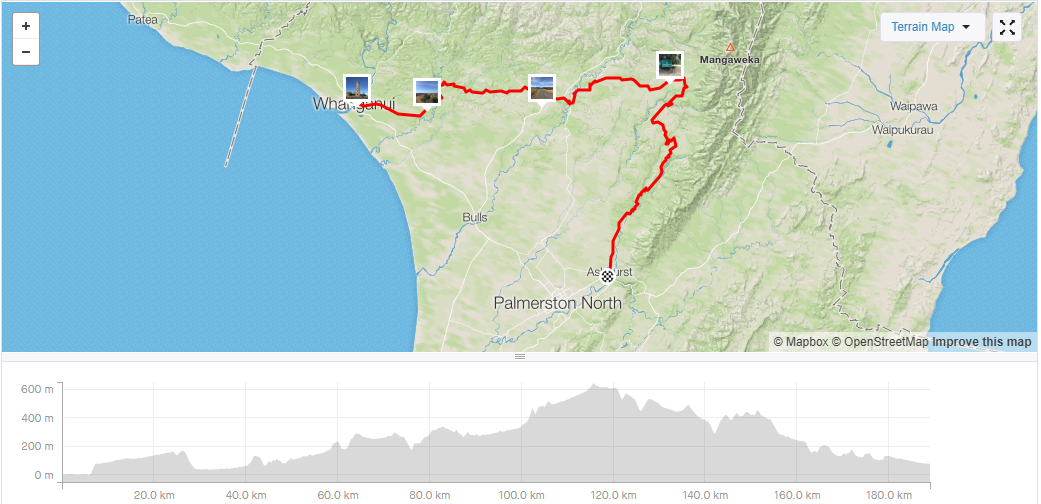 Another needed sleep in, and pushing off just before 8am got me 1km to town before a stop for coffee and a big breakfast.
Hoping to drag things out to make it up a unique elevator CP just on the outskirts of town (Sunday = attraction late start) it was going to have be the hill climb on road instead as I wanted to get moving.
Rolling hills and grinding were the theme of the day, some 2,200m of elevation across 190kms, oh and so much hot sun. This was a mentally challenging day; coming off the high of fun trails and rain the day prior, this was mostly road (just 45kms of gravel) and it was very scorched open plans and some large distances required careful water consideration.
Rounding out the afternoon at a very remote and skeleton of a town called Apiti, it was a decision there to either camp at the back of the 'pub' for the night or continue some 57kms further to the next town. At somewhere around 4:30pm with a bit of heat still in the air it was a juggle decision but Apiti without a plentiful supply of water and food it was sadly more like a struggletown and, well I'm here to ride, so keep riding..!
Calling ahead to the next major town Ashhurst, the pub said they had a room available, and I used that as mentally "1 room" and thus I need to catch and pass the couple of people I knew were in front of me to get there first.
Motoring TT style into Ashhurst via a CP at the end of a flying downhill, it was a huge day – the jump from Apiti 132kms to finish at 189kms was nudging on the upper end of my "plan".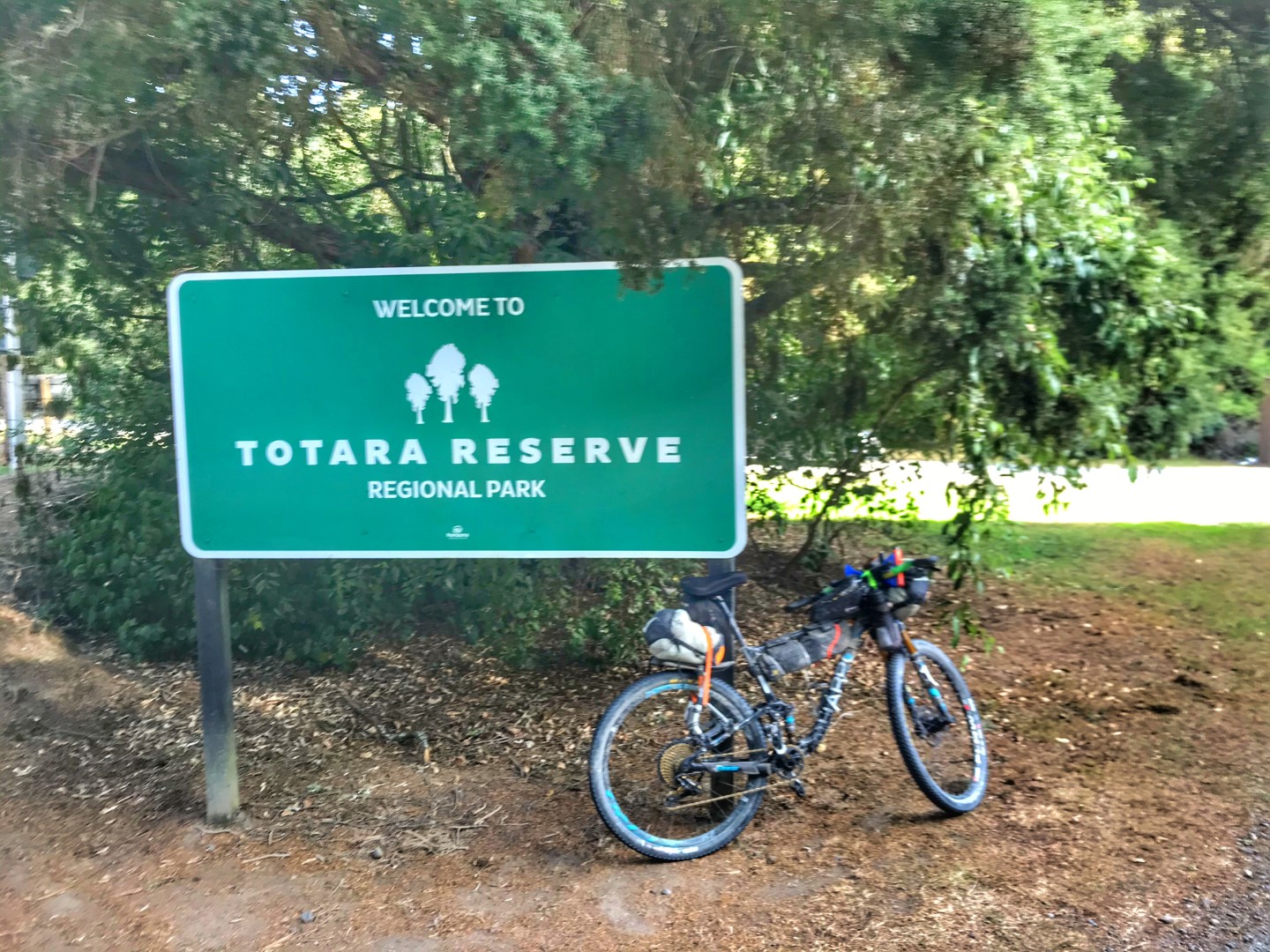 With fading light, I made the pub (which was basically empty, only one other room occupied after all that) and I had a huge dinner and desert. One of those 'I deserve a beer' days.
D8 Casualties: Compression sack clip pin lost/fell out. Bladder started leaking from opening.
Day 9 – 280.03km – Ashhurst to Wellington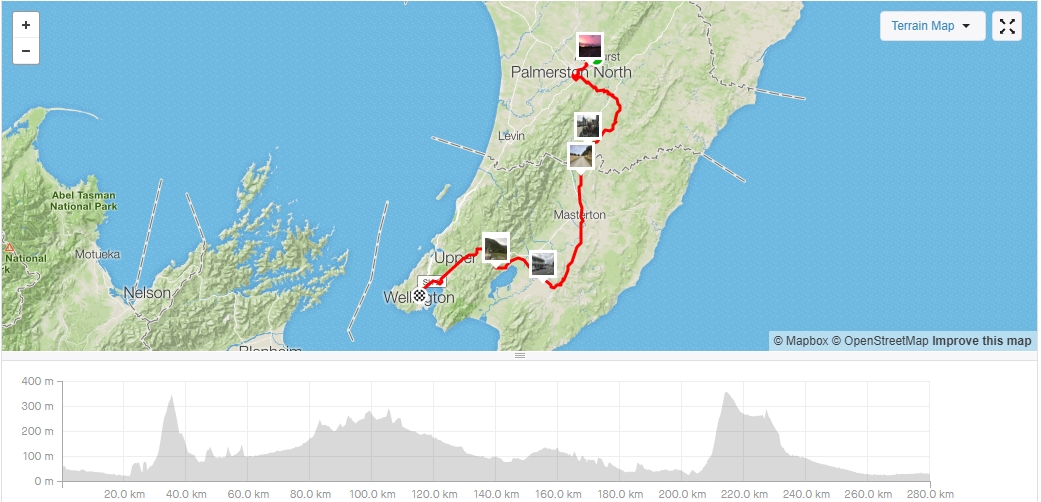 When I woke up and at 6:30am gently rolled to a sit down breakfast at a cafe, I had no idea what day I had in store, certainly not the one that became apparent!
The 21kms to breakfast at Palmsterton North was easy paths, and back out again was a hill assault & highway traffic, then a nice down hill and angry gravel to Pahiatua.
In Pahiatua 51kms in at 10:30am, a few TAers hovered around a random bakery for food and coffee – my breakfast no.2.
Happily minding my own business, one of the other guys approaches me and we're chatting – he talks about his 16 day TA a few years ago and how I should launch to Wellington as it's mostly sealed/flat and there's a 2:30am overnight cabin boat to the South Island (that you can board and sleep on from 10:30pm).
You could say I didn't really comprehend what 280kms would be like – on a MTB – and when it's not exactly flat – and not all on road(!!).
Anyway, not one to let a challenge pass me by I had a look at the course and it was in fact the juggle of doing 178kms, then 133kms the next day and trying to line up a sailing time that could maybe waste another half a day. Alright! Moon shot, I called the boat, booked a cabin for that night/2:30am to ensured my determined dash to Wellington. Crap, here we go.
+35kms Next stop midday at the giant kiwi CP – check.
+43kms Mixed gravel and road to Masterton 2-pie lunch at 2:20pm – check.
+49kms Rolling road to Martinborough (what a cute town!! But nearly 5pm eeek!) – check.
+55kms Where the hell did this tough gravel and steep climb come from (and wind!)? What a remote part of the course but a truly unique climb up to the Remutaka Rail Trail Summit at nearly 7pm (EEEK!) – check
+35kms Slow going mixed paths after more pies, into the night… To Wellington City & the boat! CHECK!
On arrival at the port 10:45pm – some 12 hours later since challenged – praise a cloudy day that I wasn't dehydrated, though I was exhausted (but found enough energy to do another 400m around the car park to round out 280kms for the day).
Holy wow, I wouldn't believe it myself if you said I could do it.. It was an amazing day with so much to absorb in one hit; the countryside, the buildings, the people, the sights, nearly being majorly collected by another cyclist with 2km to go, watching a car reverse into a pole.. You name it, so much for one tired mind to process.
As un-luck would have it the boat was delayed and it would be 1am before I could hit the bed. Happy for a cabin bed and en-suite anyway, that's for sure.
D9 Casualties: Bar tape started unwinding.
Day 10 – 112.96km – Picton to Richmond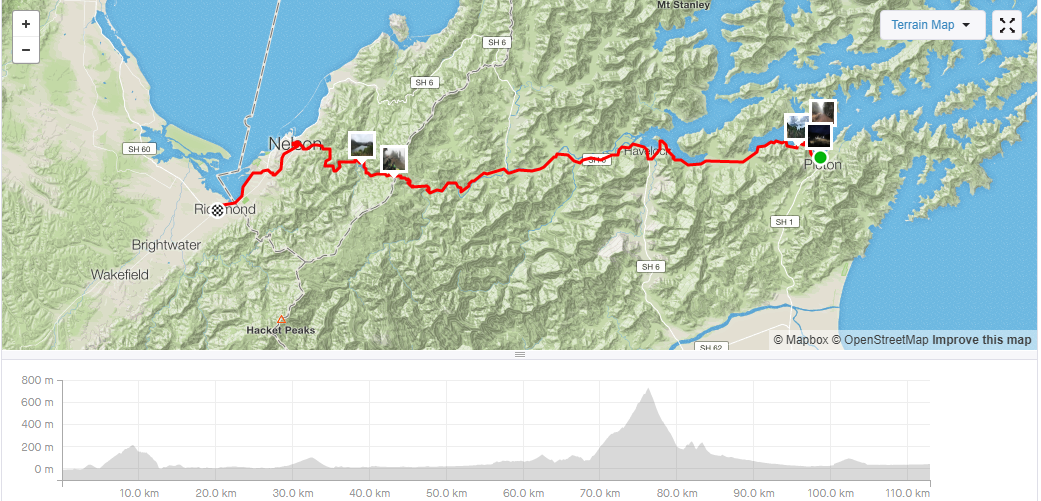 Disembarking at 6am, 4 hours was hardly a recovery sleep, though I was relaxed to have made the South Island so smoothly (… and taking the lead in my wave – but it's not a race..!), and with only a minor hamstring protest to remind me of prior punishment.
After the dozen or so riders on the boat re-congregated at a popular bakery on shore, we staggered off towards the hill out of town. In the process, going through a roundabout, a van was seconds from putting me onto its windshield. He obviously hadn't seen me but the lady in a hilux behind me gave him an earful on my behalf. In shock I stopped on the side of the road, pulled myself back together and carried on. Thankfully this was about as close as I got the whole ride to an untimely end.
Up the hill I was behind another rider, travelling very light on a MTB with a dropper post, and he started descending then swerved off onto a track. I quizzed him – Blair – if this was the vaguely mentioned single track in the guidebook, and it was! I was grateful he was in front to spot it (he was a Kiwi who had MTB'd the area before) and I had fun trying to keep up as he raced around the tracks. Gees that was fun! It should be part of the official ride that's for sure.
Without a doubt, this area is absolutely stunning – pure paradise views of clear ocean and abundant trees.

As the sky lightened it was evident it would be a rainy day – sure enough it started spitting, and then turning to rain luckily just as we arrived at Havelock for breakfast at 8:30am.
Hiding there for a bit we eventually rolled out with lighter rain, cruising around the coast road until turning off to Maungatapu Rd which eventually turned dirt and formed the Maungatapu Track.
Now, this track was something else, not just because it was raining, it was horribly rough and there is no way to avoid walking.. It was like some bastard rocky track they throw in an adventure race! With cascading rain, turbulent wind, and no visbility through (in!) the clouds, we reached the top/saddle that was 600m+ over 7kms and wasted no time getting our CP photo and starting the perilous decent. Wow, fun, but I certainly had my heart in my mouth for a few moments.
Sadly the bottom didn't actually reflect the end of the track, it was a series of up and downs still on dirt and requiring a bit of walking again to get out onto the road. At the road I was just so tired and sleepy.
Phew! We were out! Arriving at Nelson for a very late lunch, Blair and I enjoyed a beer and it was a funny change to stop really early ~2:30pm, play 'tourist' and people watch. Without a need for back to back big days, some admin like changing brake pads and the like (clearing epic mud off the bike!), it was a casual way to spend the arvo and early night at a Richmond Holiday Park.
D10 Casualties: Brake pads replaced with 1-2mm left.
Day 11 – 207.26km – Richmond to Maruia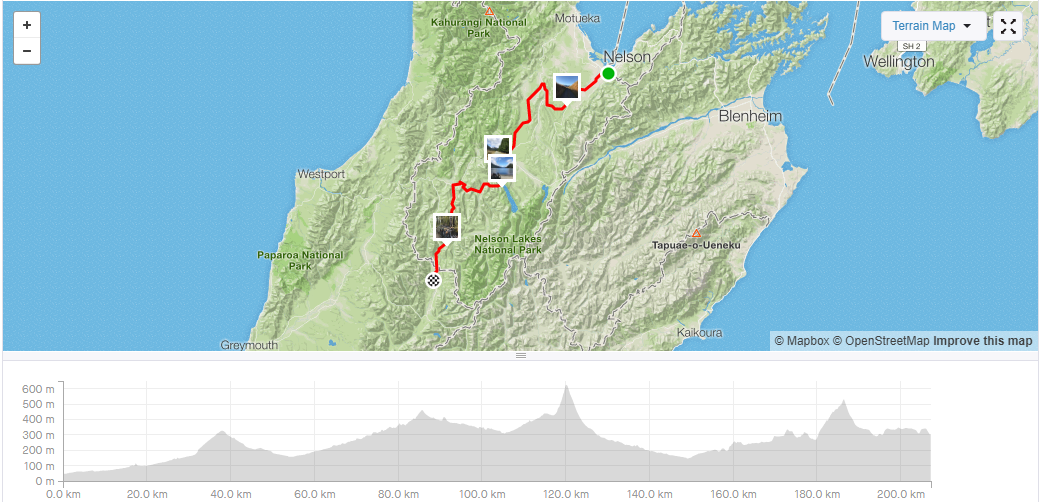 Winding out of town on a series of designated gravel bike trails through suburbs (so many casual bike trails in NZ, this one ended up forming the Great Taste Trail), it wasn't long before I hit Wakefield for second breakfast. A friendly lady/owner at the Bakery counter confused me for a second as she said hi like I was an old friend. It turned out she was just really supportive of the TA and excited to see a rider come in! Offering bottomless coffees and 10% off food it really was a "spirit of TA" moment to appreciate.
Further out of town on the paths and road, a turn off eventuated onto a gravel road and Spooners Tunnel. This was a great novelty! Some 1.4km of a completely dark disused rail tunnel seemingly in the middle of no where.
Popping out and continuing on mixed trail/road to Tapawera the northerly direction produced some memorable riding… i.e. a huge tailwind!! NZ is known for being windy and it was incredible to be lofting along 36kph with assistance for a change – here I was just thinking the coffee kicked in!
A quick refuel and moving on, the direction changed and it was back to the same old self-grind on gravel and slowly increasing the elevation to further the challenge. This area seemingly dominated with hops farms.
Out onto the highway it was long stretched out decent back down again, before turning off onto gravel to climb again! All this following rivers and streams, the final one a bit of swift water with fly fishing signs everywhere, en-route to Lake Rotaroua. I was ready for a sit down at the lake front (CP) as I still hadn't really recovered from the large ride and small sleep 2 days earlier. It was actually very beautiful, though the sand flies squashed any ideas of lingering too long.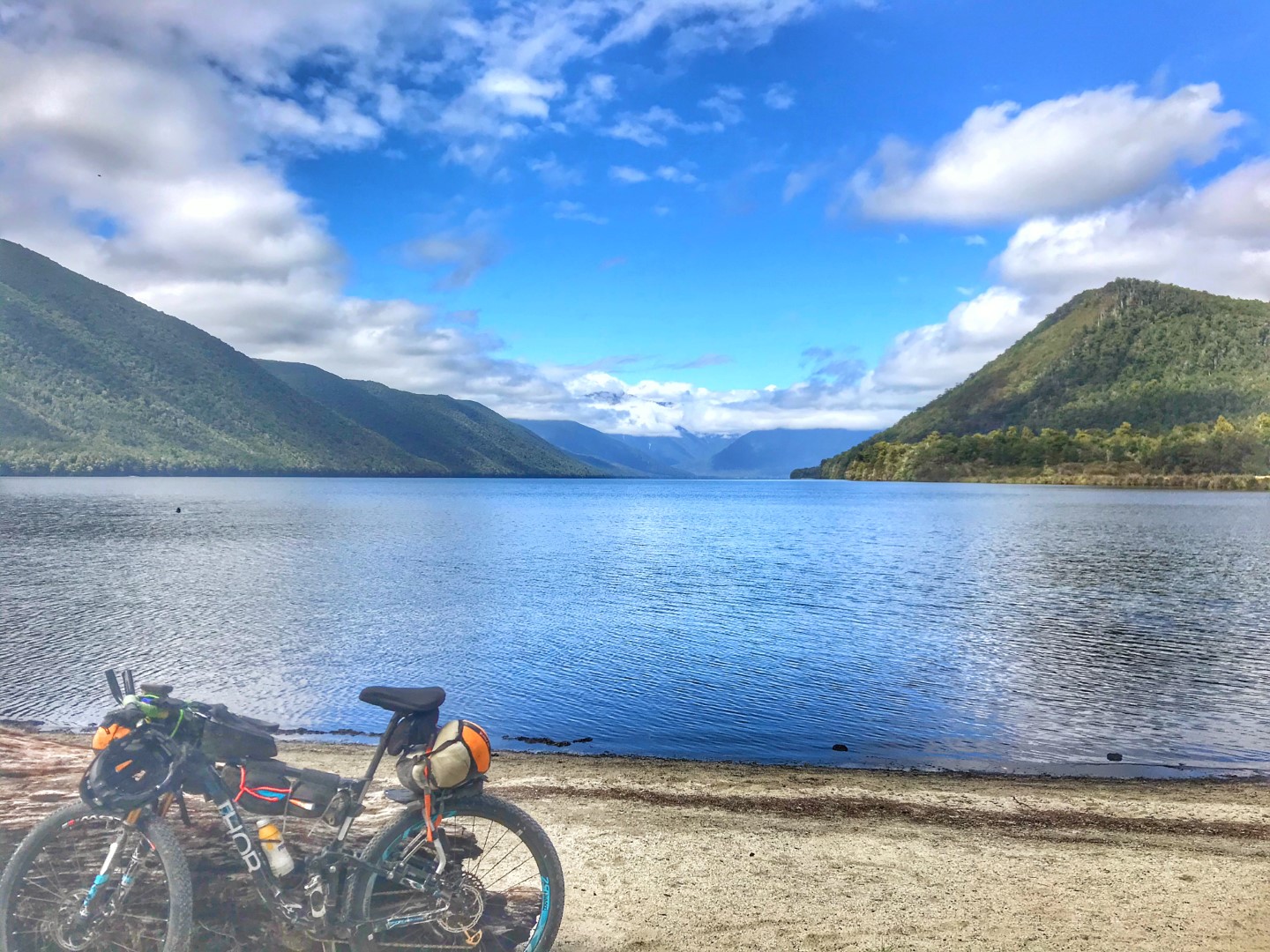 Next up was the steep Braeburn Track climbing 300m over 3kms and then a whizzing decent back down. It was a small shame to have to slow for all the water crossings as it was a relief to fly down the well groomed gravel road in the shade of the large trees.
It was a hard day of motivating and the nice town of Murchison 150kms in for a 2:45pm lunch had me thinking. It was realistically too early to stop and the next jump was 60km.. But that's 4 hilly hours making it another long day.. Well, I'm here to ride – it would just have to be the plan!
I thought I'd call ahead this time and the accommodation at Maruia said they were full. Bugger, the next jump was too far, but then she said I could sleep on the floor of their old cafe – hey it wasn't outside so sure, yes!! I said I'd be 4hrs but yikes I wasn't prepared.
That burning hot time of the day again, I was thinking twice about this continuing idea – there was yet more exposed dirt roads slowly climbing.
Just pushing through was the plan and a Maruia Saddle track was deja vu of the lake climbing track except it took over an hour to climb to the top at 580m. Alright let's descend, time to get out of here!
Whizzing back down is always fun and the track popped out on the state highway. Just 17km to go! I was really done for the day and then the wind made an appearance – in the least favourable way. A huge headwind! How is it possible to have the complete opposite contrast of the morning!
With half the decent from the saddle left on the road, there was actual heart sinking as I had to pedal hard to do max 20kph on the well inclined road downhill. What an absolute grind. I was hungry, cold, tired, running out of daylight and really struggled. Broken mentally I contemplated pulling over to call home to have a whinge – except for no phone signal, I was resigned to carrying on and yelling out to no one (behind me, because of the wind): What the hell!!!!
Limping into Maruia at max 10kph on the flat, it was a sight for sore eyes.
And, nothing like really hospitable people to make you feel better. The kind hosts for $20 gave me the cafe floor, the foot heater from their office, and a huge bowl of spaghetti carbonara! Suffice to say I was happily asleep shortly after.
Day 12 – 177km – Maruia to Greymouth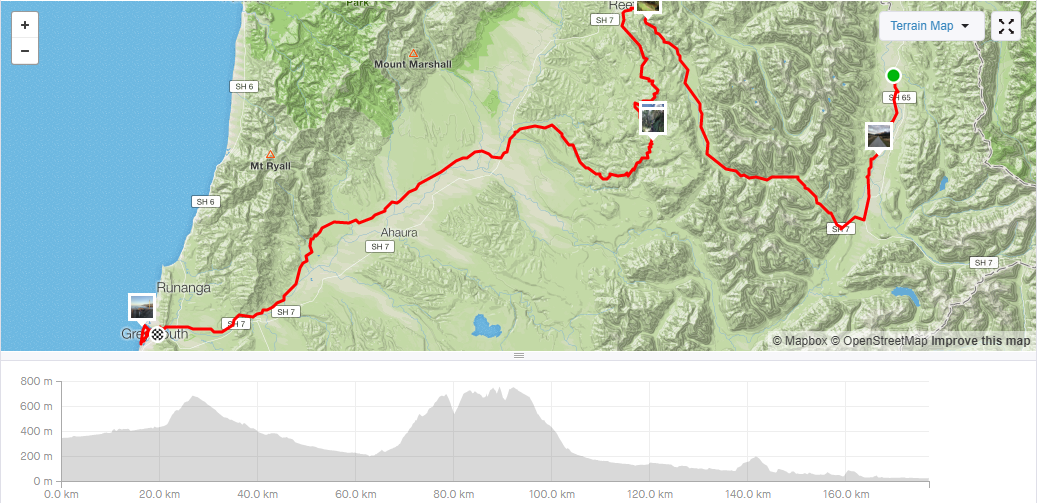 I knew this would be a serious day, as there had been talk about the 5-7hr Big River track. Luckily the short bit prior up to Spring Junction breakfast went quickly, and so did the 6km road climb up 250m – much easier on fresh legs in the cool morning air (+road and no headwind!).
Flying back down into Reefton it was an 'easy' 60km start, and second breakfast was required – this little town was really cute too, so a stop was warranted.
Heading out of town, it wasn't long before the rutted Big River track started. Recent rain had made it a little tough, and after being covered in mud on the Bridge to Nowhere ride, I thought I could save being covered with a little more careful wheel placement and a slower speed – to the detriment of momentum. There was a lot of foot down action, and for a half competent mountain bike rider I was a little frustrated. Eventually it didn't help that I was pretty hungry! Seeing some walkers they said the it was 5km to the Big River Hut, that would be something like an hour!
At the hut 1:45pm I had really pushed myself to hold out for lunch which was a little silly, but the shoes and socks were hung out to dry and it was an interesting site with lots of info about the former mining enterprise.
Moving on from the hut, there were more difficult tracks moving away from the 4×4 track style to single track and slippery mud. It made for a challenging ride!
5 Hours later I was out of there; 'relieved' is a good word. I really liked that this was in the TA though, it need this mashup of trails and surfaces to make it the rewarding journey!
Back on road there were a few streams and I tried to wash my bike unsuccessfully in one – including getting mega zapped by an electric fence!
The afternoon really dragged on and time got later and later, with the sun fading I made Greymouth to get my CP snaps and urgently arrange a hostel room before they closed at 8:30pm. What a big day.

Day 13 – 168km – Greymouth to Hari Hari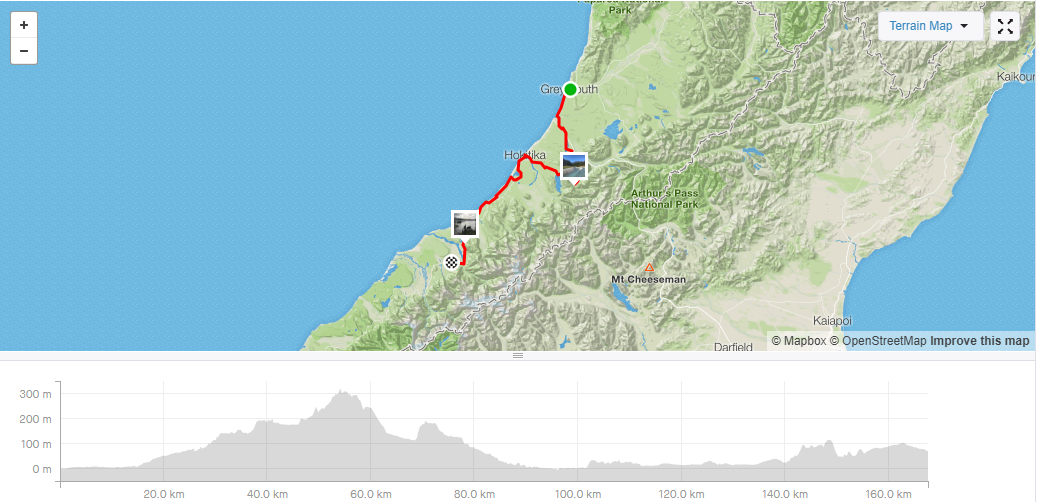 Every day I feel like I woke up with intentions and thoughts of a really pleasant cruisy day; finally I was able to do it again-ish.
Late starting at 7:30am with a gentle roll to the quaint Kumara for a unique breakfast (i.e. Continental and not an egg & bacon muffin or something!). Here on the West Coast Wilderness Trail there seemed to be a lot of tourists on hire bikes and it was quite the busy traffic morning, while other TA riders started to chatter about rain in the coming days.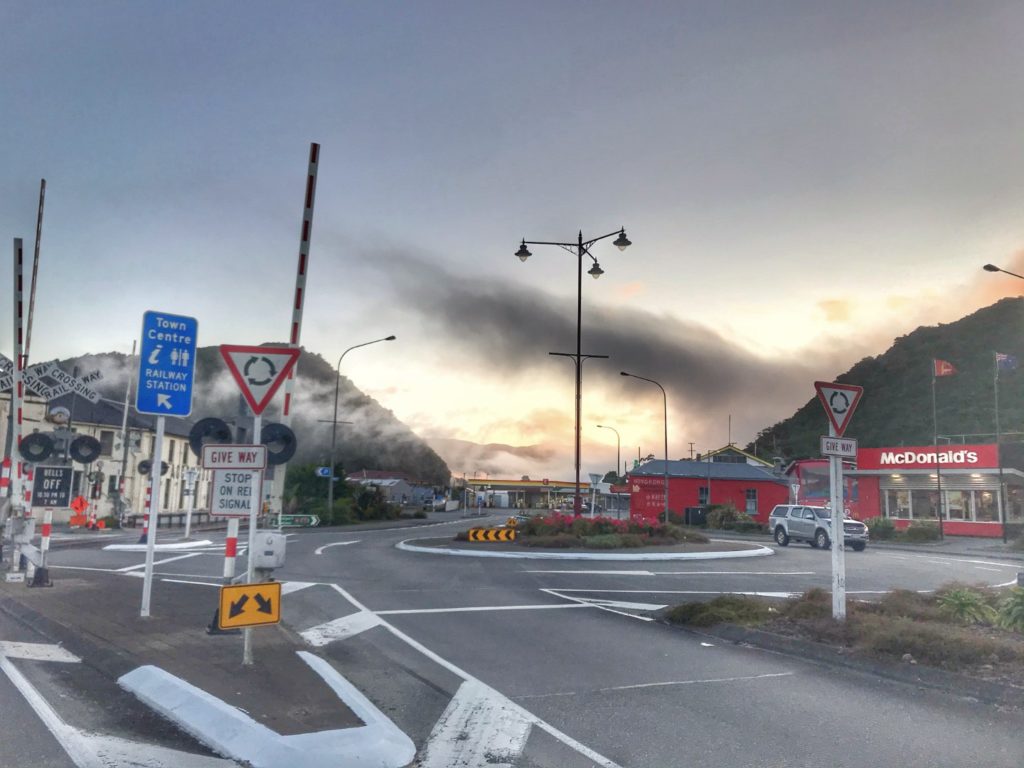 Heading out of Kumara the real single track started and it was all fast and really fun again. A great clear day, a little bit cooler, and easy tracks to blast along through nice scenery.
A stop at Cowboy Paradise was a bit of a hoot, thereafter heading along side a water race (hand-dug in 1875) to Hokitika where an 60+yr old man chasing TAers escorted me for the final 20kms just to have a chat and reminisce about his days as an endurance bike racer.
In town I stopped at a bike shop to pump tyres up and was not surprised to hear Matt CX had been in the day prior chasing faster road tyres!
Carrying on after a late 2pm lunch, it was very hot and exposed along a tough going gravel road (rail trail) in the beating sun, which eventually faded as clouds rolled in.
Making the Lake Ianthe CP just after 5:30pm I was worn down; the the head wind that appeared, and the first half day of single track, and a no-shoulder road in dark skies; it was time to call it at the next possible spot an hour on at Hari Hari. I'll admit to also being deflated when I found out some elderly ladies had also come from Greymouth.
The pub dorm was clapped out and overpriced, but their dinner was fantastic! (Rib eye – it turns out you need to ask pubs which meal is actually hand crafted and which is just reheated from Bidfood, as they'll willingly tell you!)
Day 14 – 212.98 – Hari Hari to Haast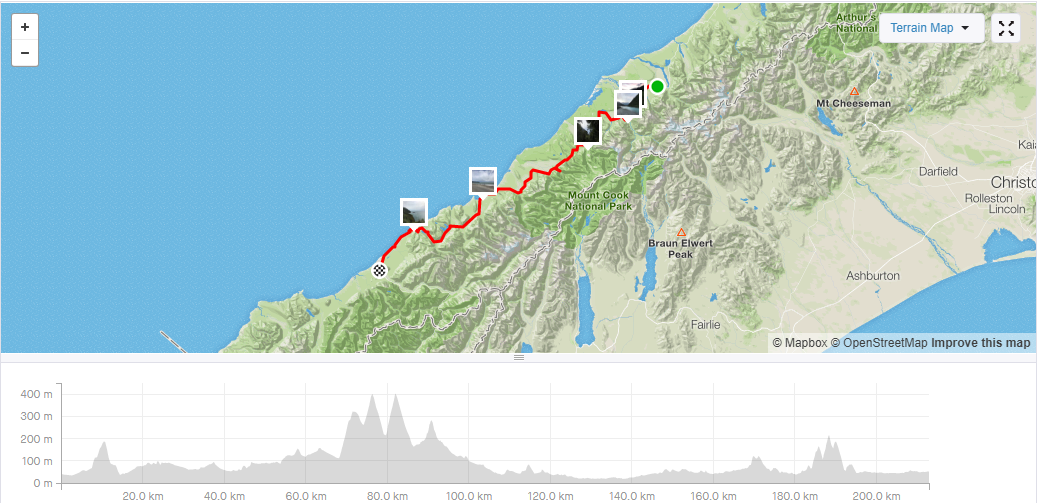 Maybe it was the ladies that did the same ride as me the day before? Ultimately I think it finally dawned 14 days in that starting early at 6am is the smart option to balance getting sleep + allowing for slowing down in the baking afternoon heat. So, I got up early having arranged the pub breakfast (cereal, coffee toast + some spare toast for the road, thanks!) determinedly out by 6am in the pitch black cool morning… Straight up a huge hill; no longer cold. Then it was a fairly flat road pitching along until a slight climb to Franz Josef. A beautiful ride though this part of the countryside – all on road but 100% great to appreciate on bike.
Helicopters in the air, Franz Josef was a busy little tourist town and I had a great breakfast #2 casually enjoying the humming village. Straight out of there it was a pretty serious slow road climb – back down – straight back up again! (Then down and up again).
Eventually – Fox Glacier. They say to take a CP photo from one spot due to 'glacial retreat'.. How sad. Pretty impressive in the distance through.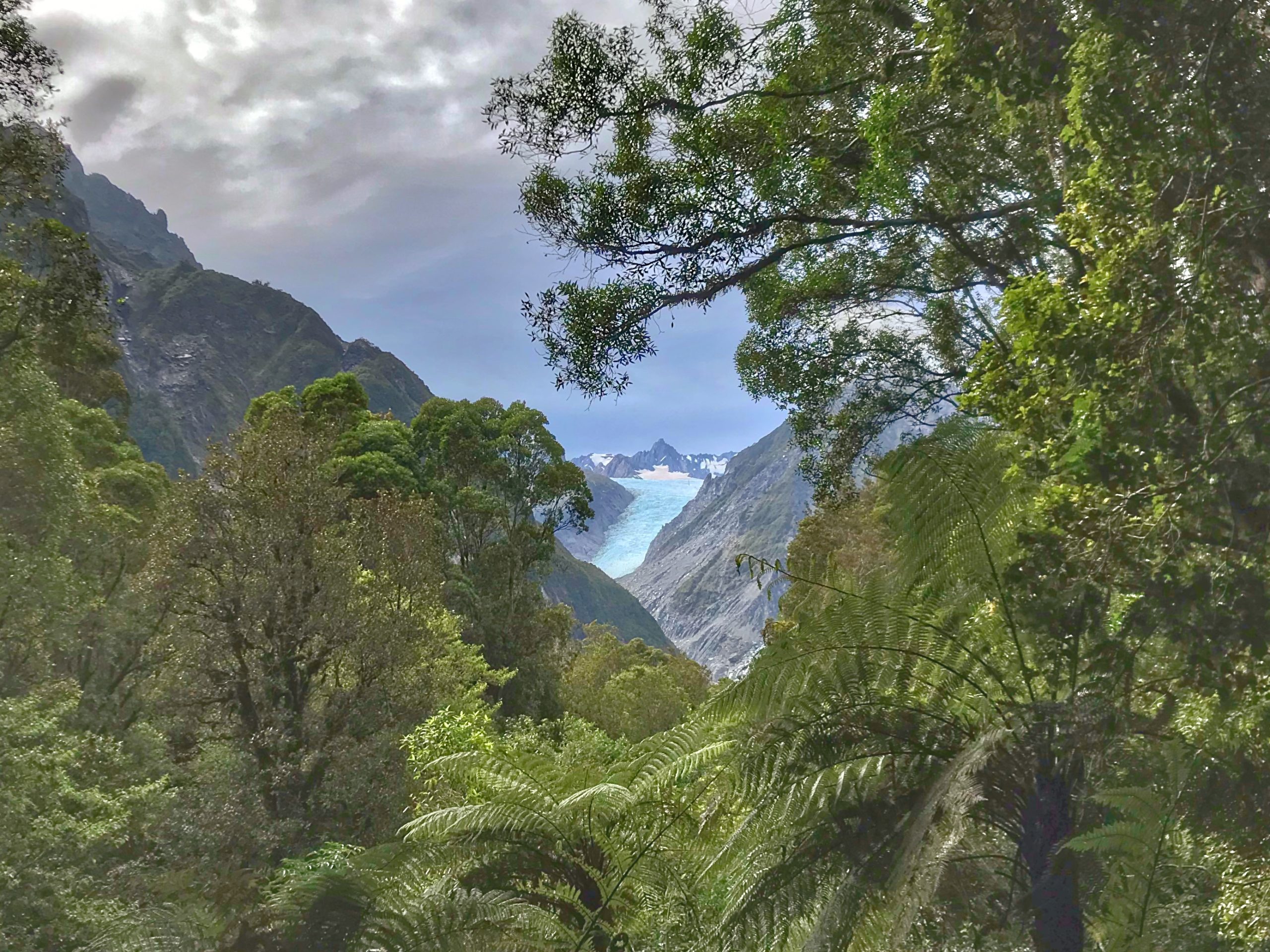 Continuing on: all downhill, all tailwind! Woosh, it was a fast road blast to a quick stop at Bruce Bay. I had no idea about how much tailwind until I stopped and had to hide behind a food truck to survive. Awesome wind hey.
After Bruce Bay it was a meander and some slightly smaller hills to the next CP at Knight's Point overlooking the Tasman. At this point I met a few other TAers and gave them a 10km TT tow into Haast at 36kph (basically max speed pedalling). Fast finish for a big day – impossible to go further without sleeping on the side of the road, so this was it for the night.
Proof of a tail wind: 6am to just before 5pm and over 200kms (road, but had elevation). Hilariously the pub offered a one free salad bar visit with meals – you can guess how high a pile might on the plate of a TA rider!
(P.S. I had overtaken Matt in the morning, but he ended up jumping me later in the arvo – the battle continued!).
Day 15 – 204km – Haast to Arrowtown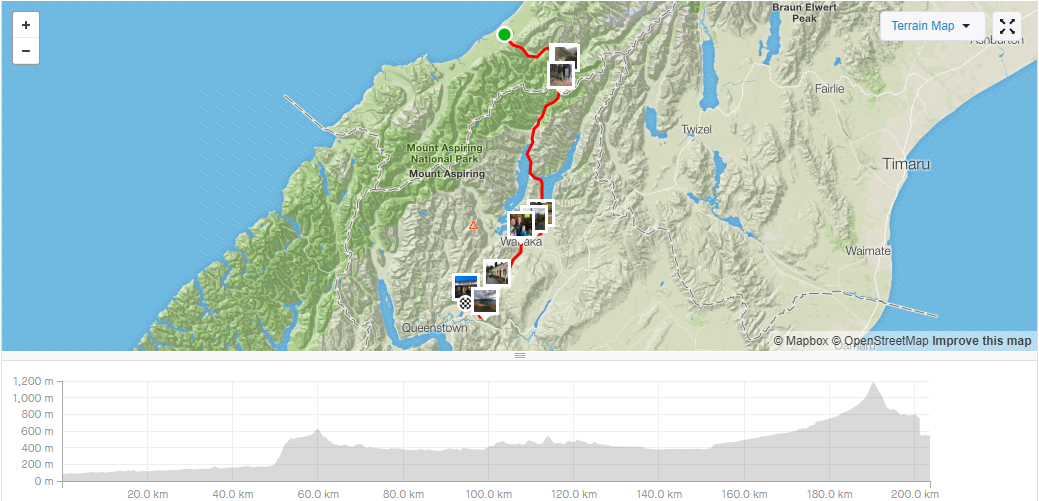 To make a go of the day, it was an early 6am start in the rain again but it was going to be one of those days –
As the day brightened slightly, it was still heavy rain and whilst comfortable hiding in my jacket, it all suddenly felt very long and lonely. The roads were quiet of traffic, there were no other riders, no tailwind, no legs, cold, rain, I felt like I was in the middle of nowhere, and 14 days in; endless riding so close to the finish but it was also distant… Mental games.
Then Haast Pass – some 400m of elevation in under 9kms – actually not as bad as it looks in elevation. Sure it went for a while at 5kph but not horrible, and the flying back down was really fun despite the wet road! Mt Aspiring National Park was a pleasure to ride through, again, beautiful, and great by bike.
A cafe of salvation not far past the bottom at Makaroa was impossible to pass up! Out of the rain there were a couple of other TA guys and it was nice to chat, eat, coffee, and more food, more drinks.. But sigh, it was delaying an inevitable ride in the rain so I thought I just have to do it. Pushing off I got 200m before the rain got harder! I nearly stopped to don waterproof pants but thought better and kept moving to stay warm.
Skirting Lake Wanaka the busy tourist road undulated and seemed to go forever though only an hour or so, swapping over to Lake Hawea to continue for another hour or so of undulations as the rain eased.
Hitting Hawea the trail got interesting – small paths, dirt bike tracks rolling along next to the Hawea River,etc. all seemingly 'just kms' on paper, but very slow going in reality which I'd underestimated. Very nice to see people kayak, and bizarrely surfing a wave in the fast flowing river.
Back around Lake Wanaka on the shore edge it was very pleasant – people out and about, amazing views across, and very fancy houses to look at! But, extremely slow going due to navigating the weaving dirt path. A sight for sore eyes, my hometown friend Paul who had completed the TA days earlier greeted me in town for lunch!
The final assault for the day: The Crown Range. A gradual rise to the Cardrona Hotel then a long slow grind started finishing with a 2km pinch which took 20mins! (Although all not as bad as it looks on paper ). Reaching the Summit top overlooking some rewarding views, I realised I had left very little time to make my finish in Arrowtown.
Descending to Arrowtown I missed a turn and then finally arrived (at the wrong end of town) well after 7pm in faded twilight and far too late! Checking for accommodation I'd really stuffed up in an assumption too.. This is a boutique bnb town: there wasn't really any accommodation. Mostly it was houses with Range Rovers in the driveways and just a very small village! The Pub said $160/night.. Considering I'd been spending about $30/night I nearly fell over – no way! Then to the Holiday Park, the lady on the phone said $80 (yikes, but literally as cheap as it would get) but once I got there; only a small cabin for $120/night. Ah geees I might as well be in the Pub!
(In the end, the Pub manager feeling sorry for me desperately wandering the streets at 8:30pm cut a very good deal!!).
Small town syndrome: I just made the only open restaurant ordering with 7 minutes to spare before the kitchen closed at 9pm. This Arrowtown idea was expensive and slightly stressful! But, what a town. 11/10 quaint, I still pinch myself I went there. SO beautiful.
Day 16 – 204.75km – Arrowtown
to Winton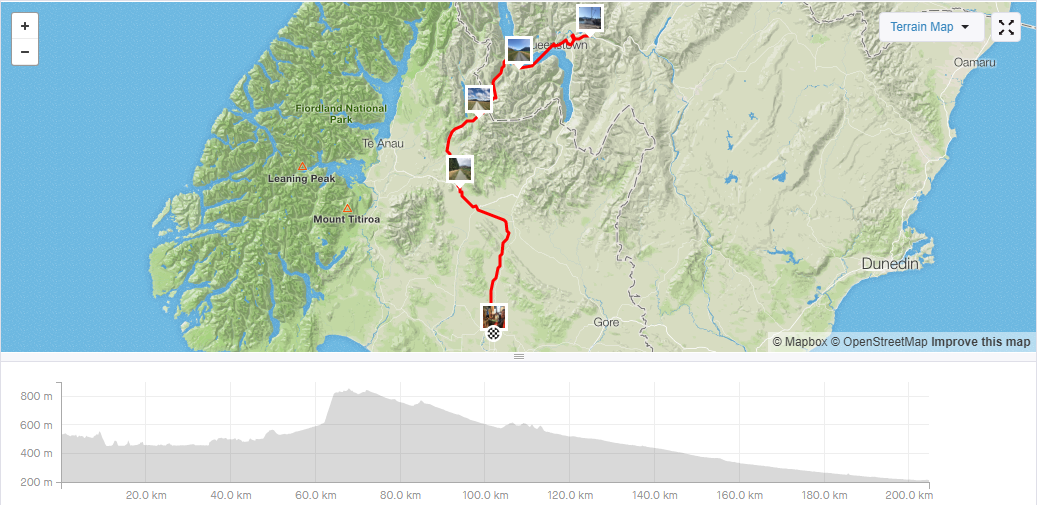 Planning to get the 10am boat trip across Lake from Queenstown I could afford a 7:30 start and a medium pace ride in.
Coming out of Arrowtown – a clear day and picturesque beyond words, then around the lake to Queenstown – also really really nice. This was a very nice part of the ride. (Mind you, via winding bike paths again I did get a little concerned towards the end).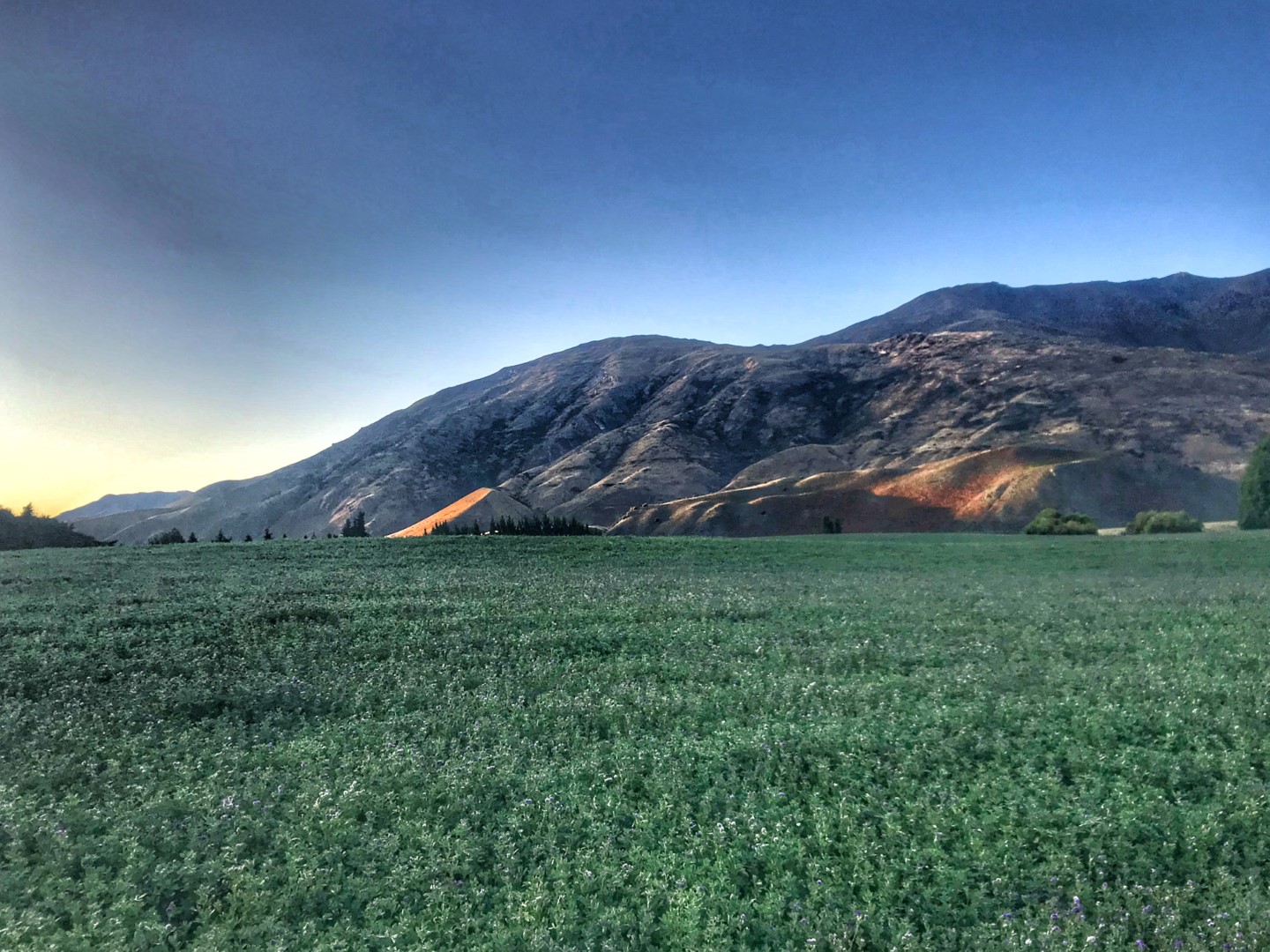 Making the TSS Earnshaw steamship and booking a spot with 20mins to spare was a relief, joining other TA bikers (approx 20) all itching to get across the lake too. However I had made a mistake – on the leisurely boat over I did some calculations. I had planned to launch straight off the boat and get to Bluff and finish the same day. In reality it was 240kms after the boat! That'd be fine if I could start early, but when the boat was arriving on the other side around midday: goodbye to any idea of making Bluff (yes I wanted it but not that desperately to arrive at midnight!).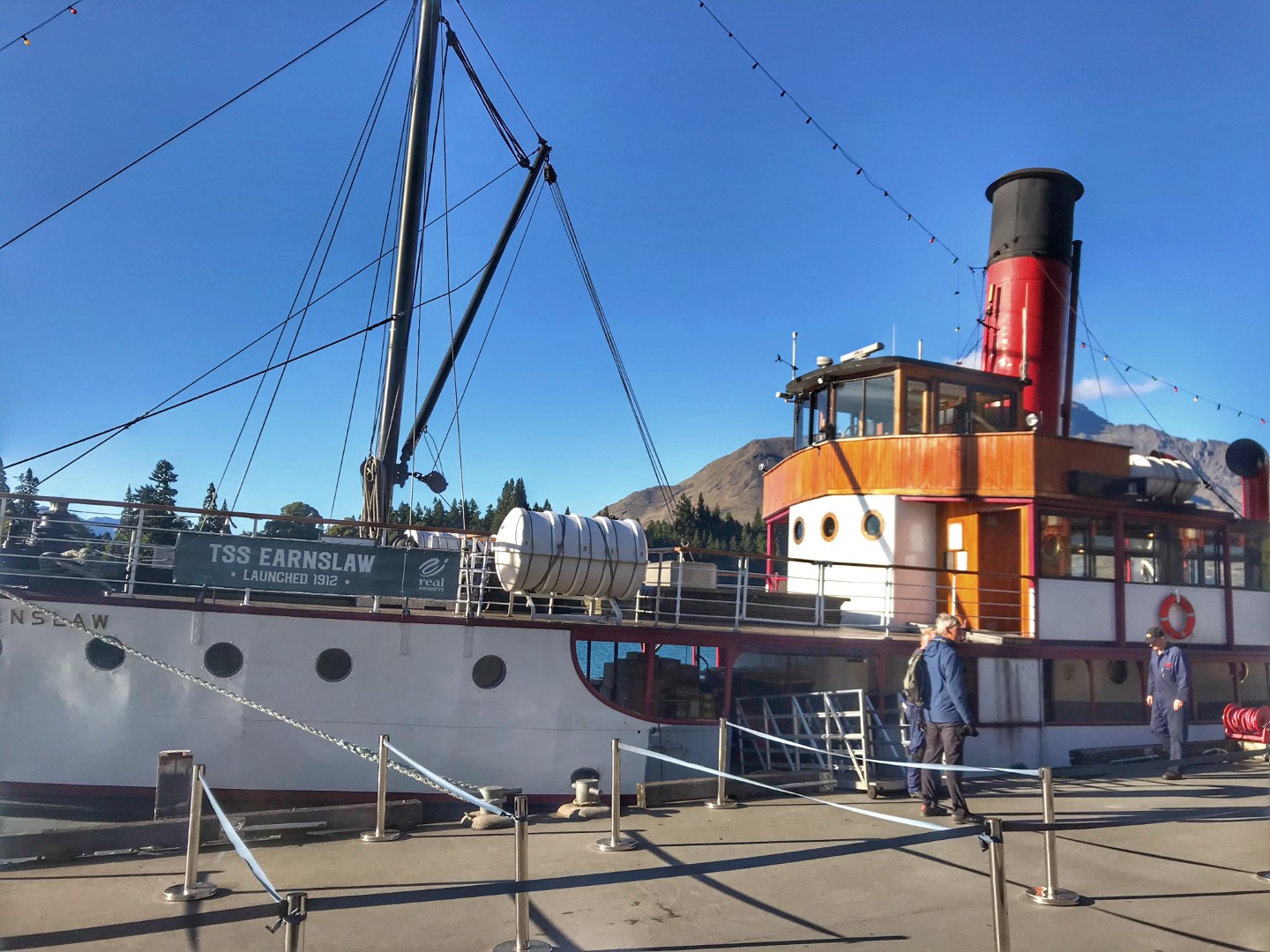 On the other side I also didn't realise how remote it was (no people, no bitumen, no buildings, just vastness!). Mind you, there was a cracking tailwind and it seemed almost dangerously fast at 35kph flat out on the rocky road. Suffice to say I didn't notice a tailwind on this huge Von Hill we had to climb).
This Around the Mountains Cycle Trail – it had toilets and a water tank occasionally, but gees, I could never recommend it. It was just really rocky and the bike path was thoughtful (thanks guys!) but literally they scooped almost fist sized chunky gravel out of the river next to it. Who wants to voluntarily ride on such a slow surface? Even happily being close to the finish didn't win me over the trail!! Here we were back to a hot afternoon, the trail darting between farms also turned away from the tailwind which was a real shame to have to grind away again.
Did I mention that it was remote? I didn't hit the next town until just after 4pm! I'd long ago finished off the box of muesli bars snacks! I booked accommodation for the next town and pushed on.
Launching at 36.8kmh to 39.6kmh max the first 10mins was exhilarating, then the road turned a corner..
The corner saw the end of the tailwind, it was so abrupt I just wasn't ready for it.. Here I was thinking Winton in 30kms would be under an hour at my happy 35kph+ but that then turned into 15-18kph. This doubling of the journey time so late in the arvo is a very depressing hit to take.. but it was at least a bitumen road this time to provide some relief through the slow progress – the sky darkened and it rained again, push push push. The "downhill roll" appearance of the elevation was a complete fallacy in real terms.
Coming into Winton seemed to take forever, on the outskirts on the small town that wasn't even that big! Hitting the pub as my stop fore the night I was very happy, just a small bit to go!
(Happy for Matt too, he made the finish some hours earlier as first of our wave to complete it.. He made it such a fun spirited ride that I was happy for him to take unofficial 'line honours').
D16: Lid unscrewed off sunscreen. Sunscreen everywhere!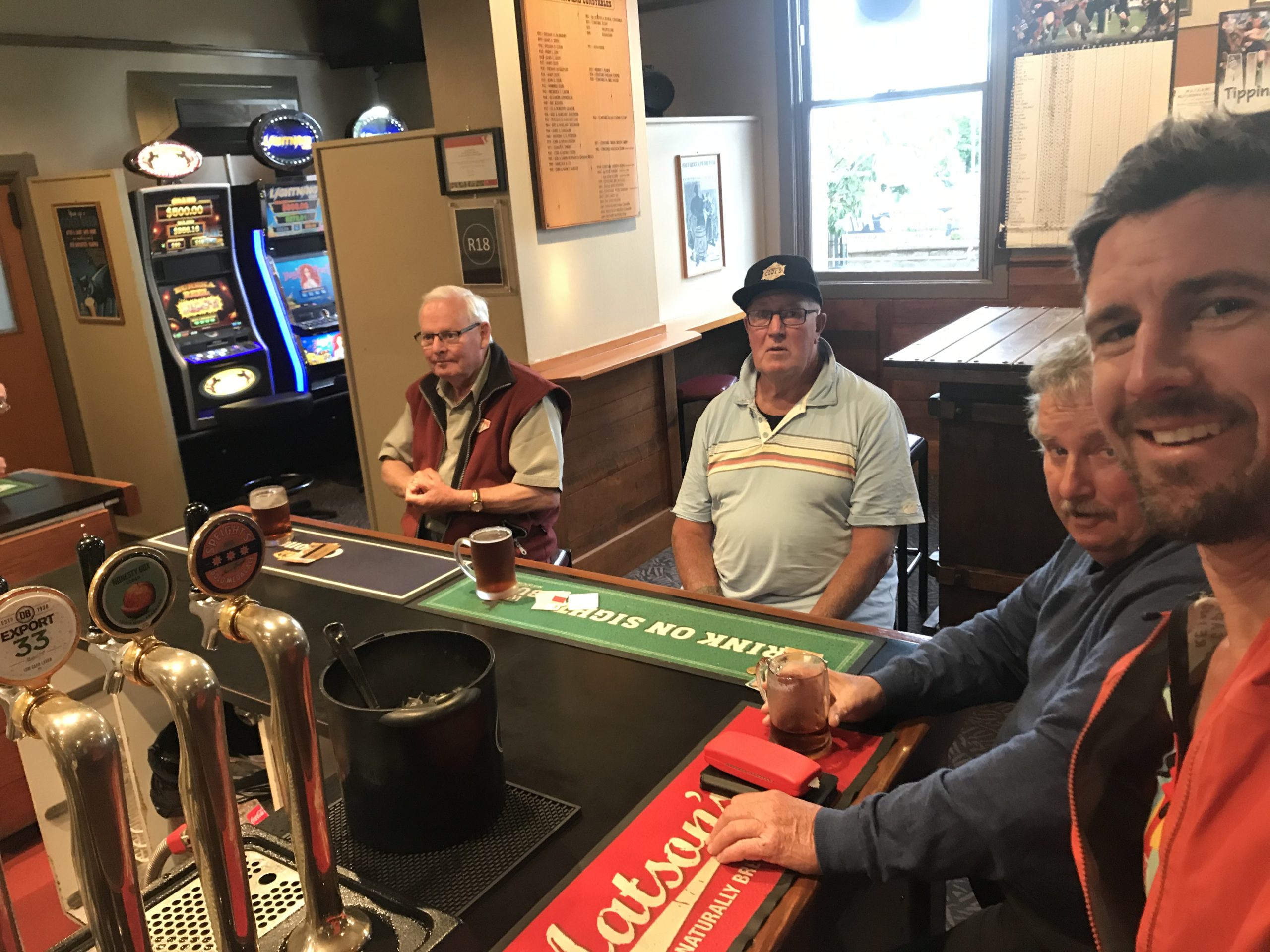 Day 17 – 68.5km – Winton to Bluff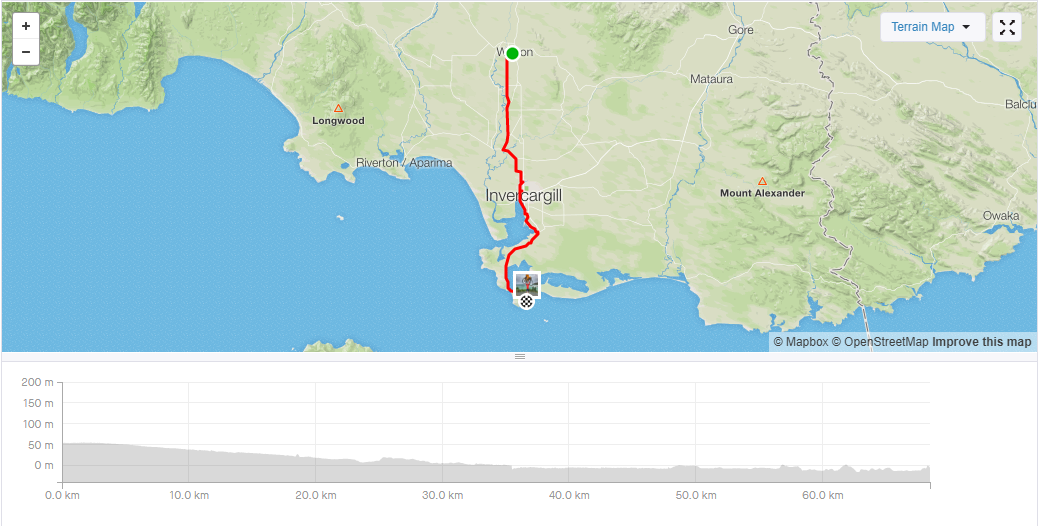 Knowing average weather was on the cards, starting early and "getting it done" seemed like the right idea. Also, I had to get there before 1pm to match our start wave time thus rounding it out it 16 days.
Finding some other TA'ers along the way and a second breakfast spot, the buffeting wind/spray from trucks flying to the port and pouring rain couldn't even dampen spirits for this last bit.
Some small undulations, and then the Bluff welcome sign – this will be it!! Racing around the coast at 30kph+ as some final sprint, I put everything into finishing strong just like it was a race of some sort. The signpost! The finish! I was hurtling so fast I put my arm out to catch the sign marking the end of the World. Hugging it and flinging off my bike in the process I couldn't believe it.
I reflected on weeks of riding hours and hours daily, the hard parts, the fun parts, the people, sights, hospitality… Everything that made it a most rewarding journey.
Others rolled in and we celebrated with photos and a coffee to warm up, plus some famous Bluff oysters, and of course a celebratory beer.. all in one!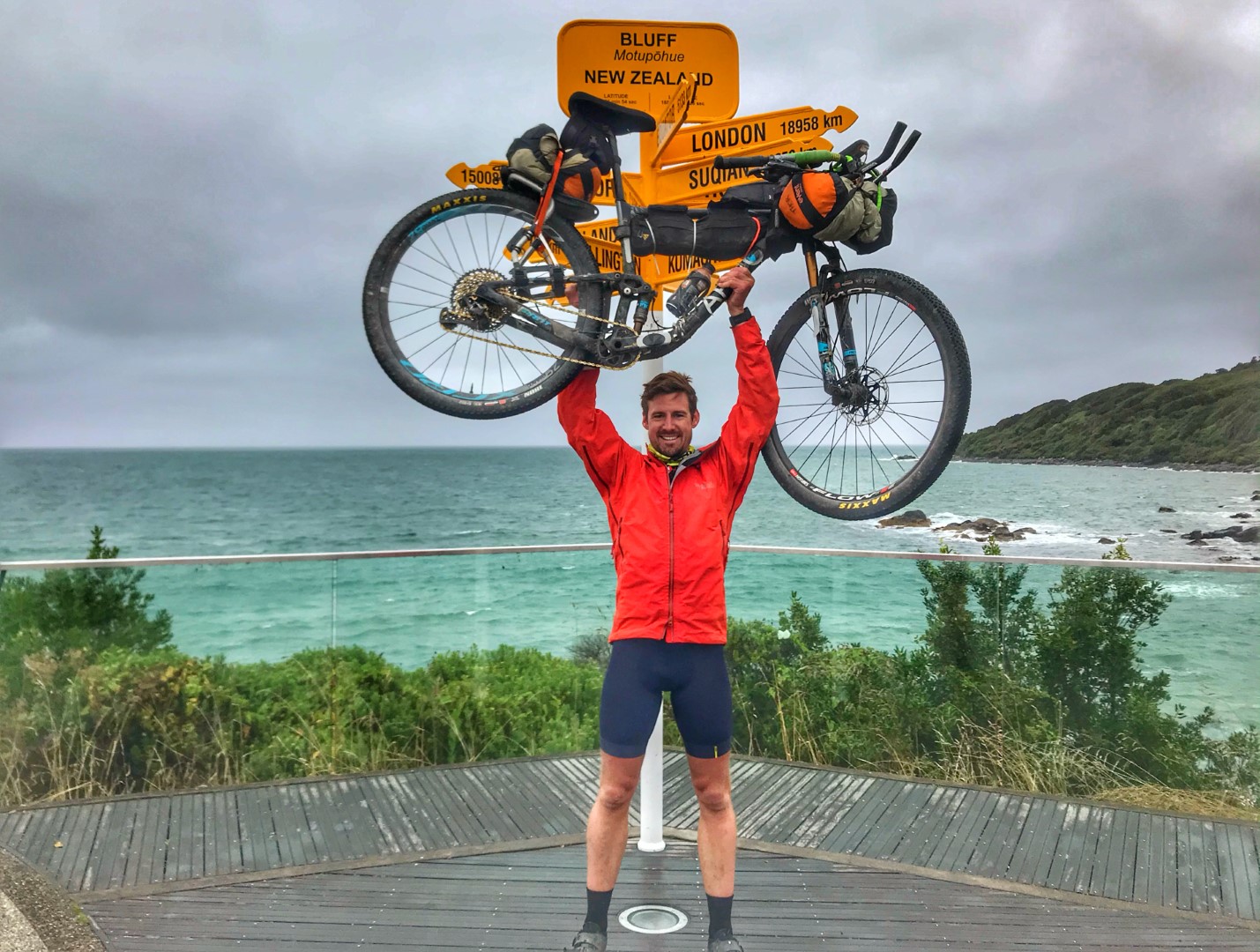 P.S
The others I finished with weren't a fan of the rain, and the hectic roads so burdened by port trucks – they ordered a lift back to Invercargill in a van! Doubting it was the right thing to do, there wasn't a seat for me anyway so I rode back all alone, cold, and very wet in the rain that was definitely set in.
I thought I would end the TA either throwing the bike over the side or treasuring it – turns out I needed it to ride back!! Kidding, I love my bike. What's next?!

P.P.S Finishing faster than my planned 20 days I considered some extra days of touring around, but I think I was done, particularly because of the continued rain outlook. Lucky too – jumping on a plan the next day I returned to Australia just before it was locked down from the Coronavirus.

P.P.P.S Wew I was lucky? – Many TAers never had the opportunity to finish as the ride was formally cancelled in the following days so some would have to plan a 2-3-4th attempt at finishing in 2022.
Tour Aotearoa Packlist
Turned out I used everything I took. See here a full list of all the items taken on the TA.
Trails of Tour Aotearoa