October 2021 –
It's so close and accessible, that Fraser Island (unless you have been) seems like something you will get around to one day, and then you are slow to prioritise… Tip: Prioritise!!
Wanting a week that was a 'break' (and looking at questionable weather), we put camping aside, and booked some accomodation. There were fairly limited options at the particular time, but we were pretty happy with:
Fraser Island Retreat (at Happy Valley)

A bunch of cabins style setup, communual kitchen, and attached to a pub.
Rate it 9.5/10, just because a 10 would suggest it's 5 star. It's probably 3/4 star, but with a new bathroom, very clean and roomy cabins, a pool, and great kitchen facilities, it's a top notch place to stay.

Fraser Island (Eco) Retreat (at Eurong)

An unusual setup in that it's a giant tin shed with approx. 12 tents about 2-3m apart. A pub is nearby.
Rate it 6.5 or 7/10, as you can hear people snoring through the canvas and it's not exactly private. But, it's clean they provide cuttlery,etc., they try really hard to create a vibe, and there's a nice garden area out front.
We mainly chose it to be closer to Inskip for home-time.
Notes
Reminder: Get a car permit! Online at QPWS. While you're at it, look up a tide table online.
Think about how you're getting there: barge from Inskip or Hervey Bay.
Also consider what sort of huge barge queue there will be, if during holiday season.
Pack some sort of floatie/tube, and pack for all weather, particular sun and insects. And be ready for sand everywhere.
Fuel is ~40% more than mainland, same with food (at least load up with lots of snacks..).
If you book accomodation, you'll have access to a fridge so you can bring food/meals.
Helps to have an offline mapping app, like BillyGoat, or print the National Parks map.
Where and How
Crowd sourcing opinions, we were trying to decide where to get the barge from and where stay.. It is clear that if you are staying on the East side, you will 100% be better launching from Inskip due to a fast run up the beach (assuming low tide).
We also thought staying (camping originally) in the center at Central would be a good idea because of accessibility to nearby spots – let me tell you that's definiately not a great idea as the tracks are very slow going (bumpy!) and whilst it is "central", blasting along from a beach location is way faster to get to places.
If heading over on the Inskip barge, you can stock up at Rainbow Beach, and we grabbed a barge ticket while fueling up at the Shell servo before making the 20 min jouney from town to the beach.
The bonus about staying somewhere like Happy Valley is that it is pretty much smack bang in the middle of the East coast and a great place to start your day trips from..
If camping, you couldn't beat Waddy Point Beach Front Camping, if you're okay to account that it's almost at the very top. The beach is perfect and you have the headland to protect/jump around if there's a wind.
Itinerary
Day 1: Midday Inskip barge, low tide to Happy Valley accomodation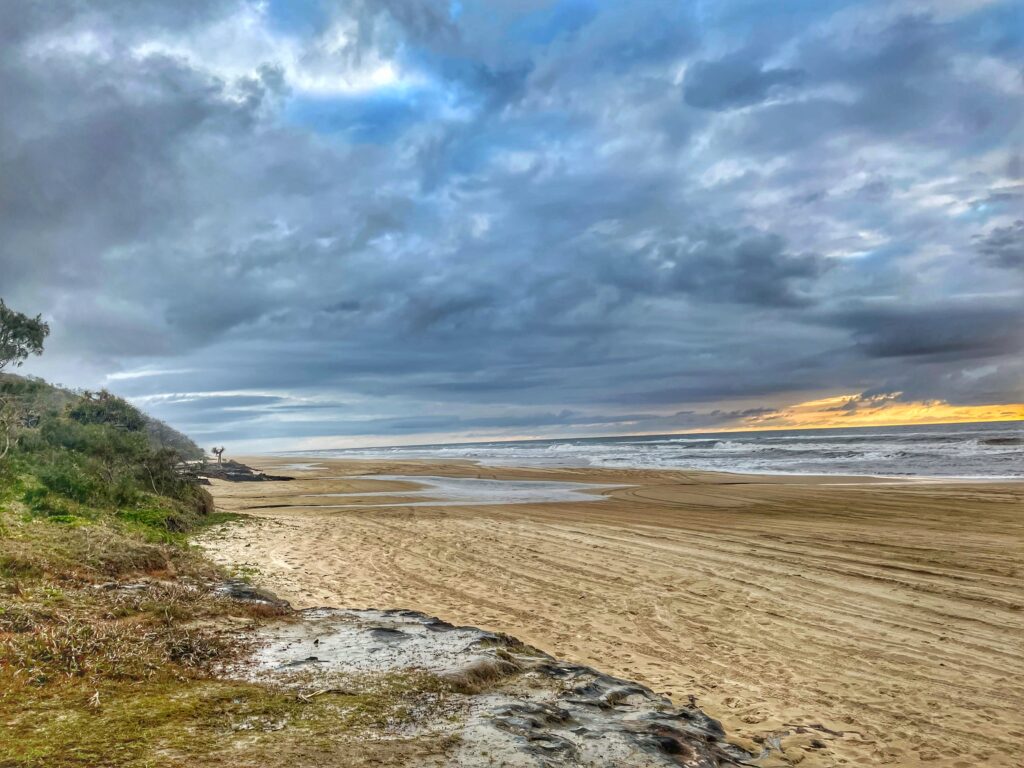 Day 2: Maheno Wreck / Knifeblade Sandblow / Lake Allom / Boomerang Lakes
Day 3: Red Canyon / Waddy Point / Champagne Pools / Orchid Beach / Eli Creek
Day 4: Lake Mackenzie / Central Station
Day 5: Lake Wabby / Yidney Rocks / Relocate to Eurong accomodation
Day 6: Morning barge, low tide out via Inskip
Summary
There's a lot to do on Fraser, and you can be as busy or lazy as you like. Sitting at Eli Creek on an inflatable swan endlessly is an option, holding a fishing rod for Tailor, as well as busting around to see all the cool little remote pockets.
Lots of fun to be had by all types.