Pre-Spiel
When we all heard that arguably Australia's top Adventure Racer – Rob Preston – was going to create a new race, it was just a question of logistics. After all, flying interstate to a race these days come with risks..
I was lucky enough to land a spot with team Rogue Adventure – with my 4x sprint race teammate Liam, and action couple Chris and Michelle.
Sure enough with a very clear leadup, just prior – COVID lockdown. Great. With great shuffling and pains, we left the 'hotspot' of Brisbane a day early to fly to Melbourne, get a COVID test, navigate the CBD with bike boxes, secure a couple of train journeys, and eventually get picked up by Chris and Mish to whisk us to the pre-race accommodation. Wew!
(One thing we didn't appreciate before leaving was how COLD it is down at the race location of Erica/Rawson, and the forecast was heading to negatives!)
The Race
Leg 1 – Bike – 18km – 800m Eleveation
Luckily the start was close to our Airbnb and we cycled to it in the brisk morning air – the sun was out which was perfect!
As a nice twist, after the gun went off we had to choose a team member to do a puzzle – put together a square with a selection of odd shaped pieces. We sent out PhD to quickly sort that one out.. Ahem.. A short time later with just 3 teams left including us still trying to work it out, we eagerly watched on as all the other teams had gone in a cloud of dust!
Finally sorted, we were off! Good way to spread out the field. We moved quickly on the bikes, catching half the teams in front until we all compounded at a mine shaft checkpoint. A dark wet tunnel nearly 50m long turned out to be the wrong spot, and eventually everyone caught on, and the field started to spread out again as we headed for the hills.
Shortly after we wound our way down into the town of Walhalla. In the crisp morning air it looked like a fairy tale. Its a very cute town.
Leg 2 – Trek – 7km – 100m Elevation
The team split into 2 for a small Q&A around Walhalla town started this leg, which was a bit of fun. I can now tell you the extended tunnel mine closed in 1911…!
Before long we all re-joined in a creek which was the main part of this leg. Here we got a bit wet with water from ankle to thighs (including the flowing creek bizarrely stopping and reappearing later), and it was the last time we would be dry the whole course – despite the sun still out, the awful weather was coming.
We hovered around the top 2 places through here, but could be no match for the unbelievable pace of the 'Avengers' Team who made it look easy flying past us.
After a great challenge trying to avoid spraining an ankle, we popped out to the river where the TA/Packraft was.
Leg 3 – Packraft & Trek – 25+12 km – 1,500m Elevation
With new huge packrafts we worked quickly to pump them up and get onto the water. As soon as we were in, we were loving it.
The sun was out, the river was flowing (it was easy travelling through the small rapids, none of which large enough to toss anyone out), and there were very few portages required.. And best of all the packrafts being so large were really comfortable which is a treat over past cramped quarters.
The weather changes quickly in Victoria. Within a minute the sun would change to clouds and a whipping wind, cool pouring rain, and sending us into chattering shivers. Mish smartly donned her layers while the rest of us gritted teeth and held on for the balance of the paddle. All in the picturesque paddle was largely uneventful except for the day turning very cold, and colder again at points with the wind howling through trees above.
A battle was in place; leapfrogging and close behind at the packraft exit were 2 other teams – Thunderbolt being one we would play tag with for the rest of the race.
Immediately after starting the trek (packrafts on our back) we were plunged into 18mth old dense sapling regrowth (post-fire) up a 40 degree slope. It was a battle! Chris took the lead charging through, and the rest of us caught the whiplash and scratches clambering behind. A good way to warm up! Mind you, no chance to get dry – the trees and leaves were all soaked from the rain and we just got more wet.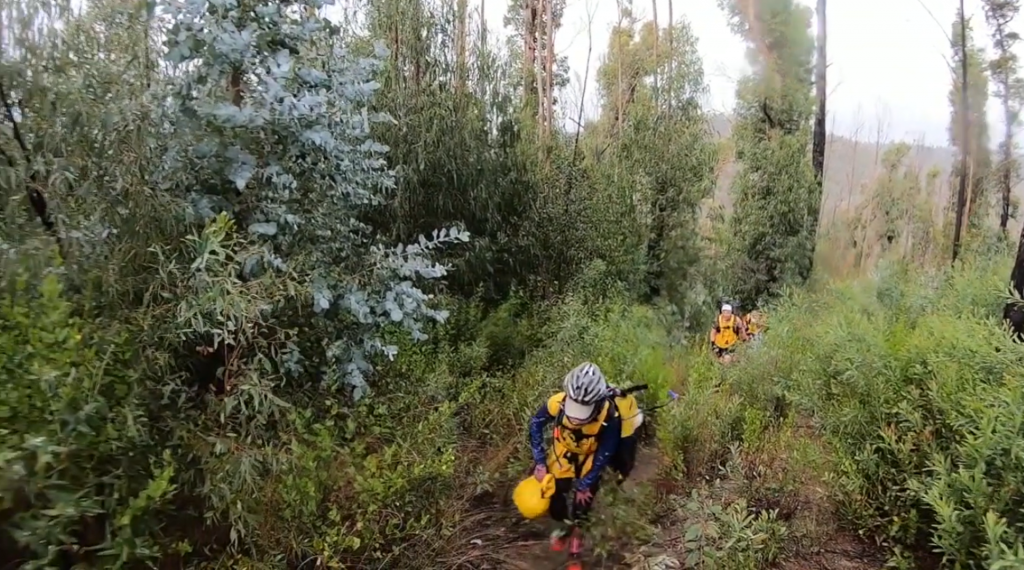 Barely on a fire trail for any time, we then had to dive back into the regrowth and head down this time, jumping over fallen logs and using new shoots as a anchor point to clamber steeply down to a creek CP.
What happens next? Another aggravatingly steep climb back out again up the other side! This one went for some time and the weather was really starting to set in – whipping wind, rain and a dropping temperature. Along the way we saw Rob Preston who said it was about 7 deg. We pushed on to keep warm and hold second place coming into the TA after another big gravel road wind down to make up for all the climbing we did.
Leg 5 – Bike – 44km – 1,600m Elevation
Chattering away in the now dark sky, we put on some warm clothes at the TA. I'll admit guilt for being too slow here as Thunderbolt came after, and left before us. Our hands were so cold we couldn't pull up sock, clip helmets and do very simple tasks!
Shortly down the street, having barely ridden 1km we turned off road and into a massive massive hill (with no real clear path through the dense trees and shrubs) – this hike a bike takes the all time win. It was brutal! Reef the bike up, hold the brakes, attempt to shuffle up to it and repeat – occasional slide back down on your knees.
After some time we reached near the top where it thinned out and our Thunderbolt friends there had unfortunately missed the CP midway and we directed them to it back down the hill. No one need to draw out the pain of that hilly area…!
This leg, as you can guess from the 1,600m elevation had a lot of hike a bike. We opted for the bonus CPs too which took us through this very unfortunate area comprising thick muddy ruts made by dirt bikes. Basically parallel to a road the whole time made it painful, as we tried to move through as swiftly as possible (Thunderbolt back with us again too!).
On one decent I hit a slippery smooth log at speed and expecting to bounce over caught me unaware when the front wheel twisted level with the log and I went flying and sprawling down the rocky slope. Ouch!
Coming into the TA we were relieved to be out of the torrential rain hiding in the tent and fed hot water by the volunteer. She was also very useful to help tie up shoe laces as our fingers were 90% checked out at that stage and we couldn't grip anything.
Leg 6 – Trek – 3km – 100m Elevation
This was a short run down the hill to collect packrafts from where we left them.. Not quite sure why the bike didn't finish at the packraft point – maybe logistics – but we grabbed the boats and started off again.
Leg 7 – Trek & Packraft – 20km – 1200m Elevation
Here we go, loaded up with more weight and straight into a hill. Thunderbolt had got the jump here but we found them at the top of the hill and continued on foot collecting a swag of CPs. One particularly tricky one in a creek sorted both teams out as we pushed through the bush in the on/off rain, surely around zero degrees and soaked right through.
In a tactical move, Thunderbolt had dumped their boats to collect points faster, however with our boats onboard we were able to get 1 more point which we needed to hold until the end of the race to pip them. Game was definitely still on..!
Dropping off the mountain we hit the packraft launch point, thankfully as the sun started to light the sky as spotting CPs, exit points and a whole tree across the river would have been a lot more challenging.
After the packraft CPs, it was a short march out of the river.
Leg 8 Trek – 3km – 150m Elevation
Back to the bikes we discussed strategy – time remaining vs. optional points to collect.. We decided to play it a little safe and just hope our 1 point could keep us clear..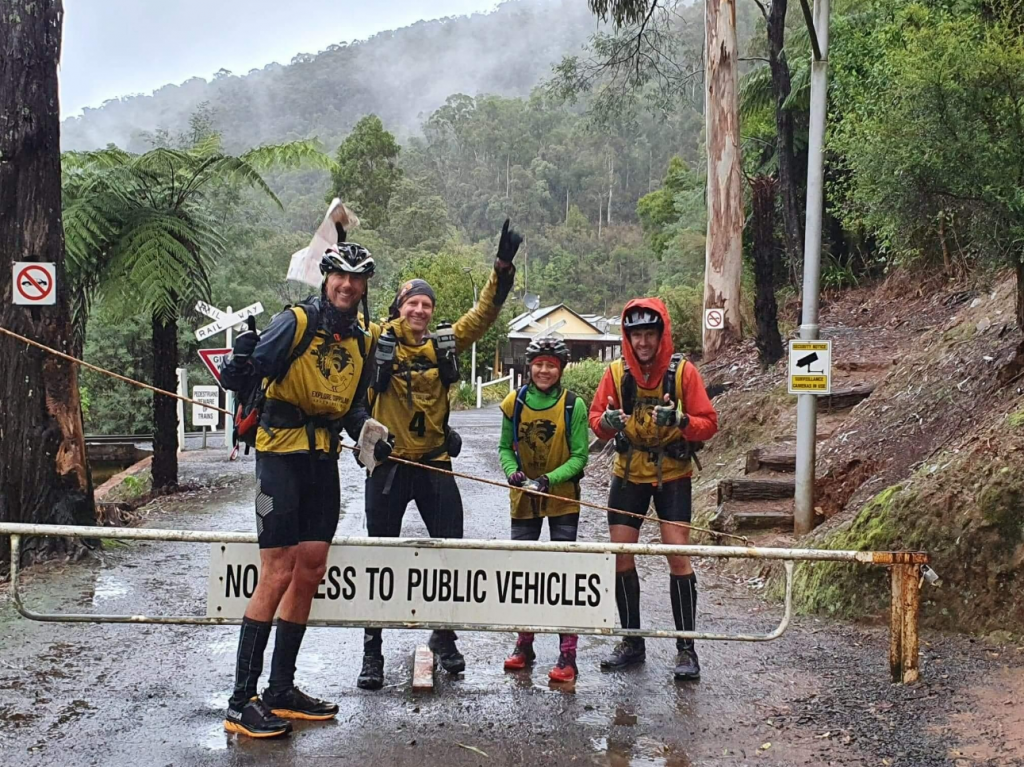 Leg 9 – Bike – 23km – 750m Elevation
Rolling up and down hills, a little hike a bike, and a fairly smooth run even in confusing single track, we pushed on to hopefully get a quicker time if it came down to equal points.
During one blissful moment between rain the sun came out! No less than 5 mins later 'whoosh' went the wind through the trees and hail peppered us.. Just 5 mins from the finish line!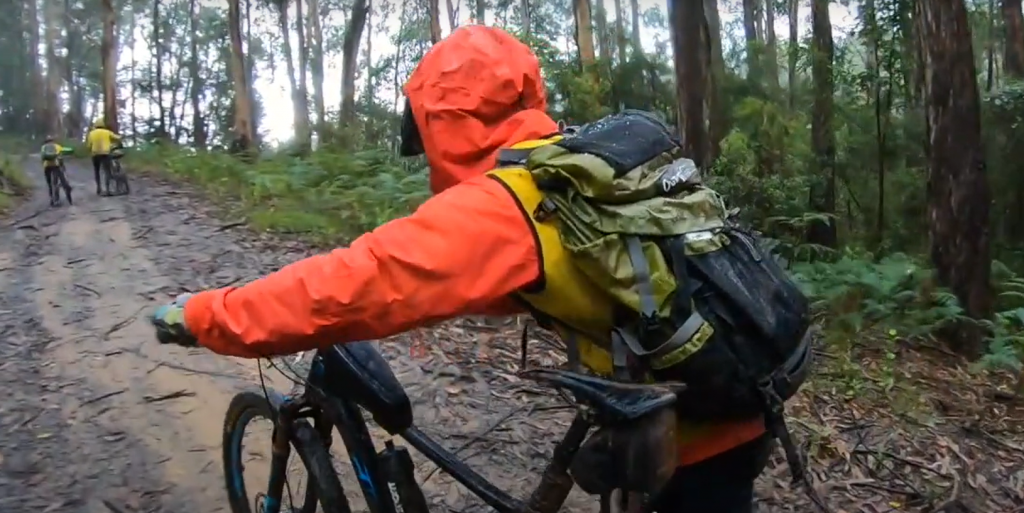 Rolling in was a relief. We were cold and battered from the off track course, happy to seek refuge around a brazier.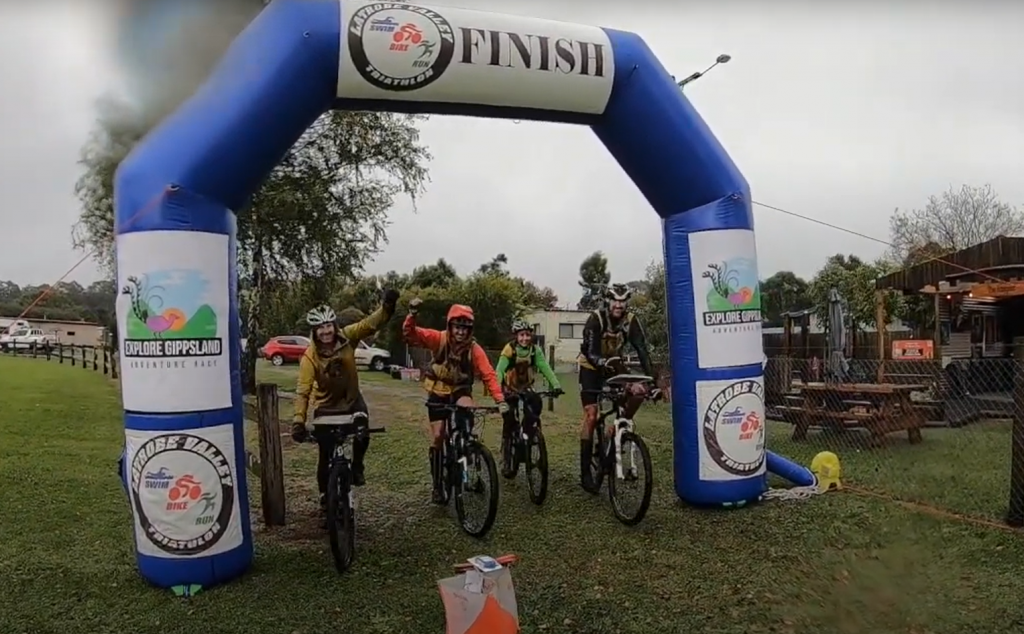 P.S.
We ended up placing 2nd! Mind you it was due to the Avengers losing a couple of points – they were the stronger team on the day but lucked out on a technicality.
Rogue was a great team to race on, sign me up any day!
Chris' video of our little adventure:
Check out this awesome fly around the course based on our tracker:
https://ayvri.com/scene/dk3z6w6r5x/ckspl883k00013b6iz4dpnq88