June 2020 –
There's a bit of distance heading up the coast of Queensland – we should know but once on the road you realise it is still a surprisingly very long way!
Here's a map of the trip up and back:
20 Days
~4,200kms
8 Stops up
8 Stops back
Day 1 – Brisbane to Deepwater National Park
Early start for second breakfast in Eumundi… Then a blast onto the first night at Deepwater National Park at the Wreck Rock Camping Area (just south of Agnes Waters).
Day 2 – Day at Deepwater NP / Wreck Rock
An easy day sitting on the beach, enjoying life. The camp ground is largely suitable for 4×4 access only so it wasn't a thoroughfare when we went.
Day 3 – Deepwater NP to Byfield National Park
We headed off early to make it to 1770 for a look around and coffee stop.
After 1770 we hit the road with the aim to make a beach camp booking we made on 9 Mile Beach. We didn't make it..! Ran out of light.
Instead we made it just before the sand starts, camping with the mosquitos at Water Park Creek Camping Area which was actually a really nice spot despite the mozzies.
Day 4 – Around Byfield National Park
In the morning we did a little walk around the lush walking tracks around the camp and day use area, then hit the road/sand to make the drive into 5 Mile. The drive was 100% suitable only for a 4×4 and was a lot of fun albeit slow going.
5 Mile was a cool little township (more like settlement!). The camp area near the village looked good, though the proposed camp site we intended on at 9 Mile was literally like camping on a windy dune and we were very happy to have bailed out.
By time we drove every track around town, the length of the beach,etc. and after the slow sandy return out of the coastal area, the day had gone quickly. Hence a new plan for the night – Upper Stony Creek Campground.
It was an absolute pleasure to stay here. So peaceful, good facilities, a refreshing running creek for a swim and a bit of platypus spotting,etc.
Day 5 – Byfield NP to Cape Hillsborough
After a walk around the local tracks we wound back out of the park and went pretty much the most direct route to our next night booked at Cape Hillsborough.
Now, if we though any previous night was special, this was another level again! A perfect afternoon on the beach in the very quiet and stunning Smalleys Beach Camping Area.
The first 5 or so camp spots are peeking through the trees and barely 5m from the beach and tranquil Ball Bay waters.
Day 6 – Cape Hillsborough to Townsville
The next morning we went to get the photo that everyone comes to the Cape for – wallabies on the beach! It could be considered a bit touristy by we thought it was a nice start to the day.
Lunch at Bowen, then onto the Strand at Townsville.
We loved a little afternoon jog along the waterfront, which was very active-friendly and had a few things to see like the WW2 structures.
Day 7 – Townsville to Paluma State Forest (Paluma Range National Park)
The morning started with a ride up Castle Hill to see a view of rain rolling in. Rain aside, it was still great to get out and see so many other people spending their morning trundling up a huge hill.
We headed off for a night in the bush! After a coffee stop at the humming Otto's, we drove via Birthday Creek Falls to finish at Paluma Dam where we left the car in the late afternoon to start the walk to our camp (The dam area itself has a nice set of camp sites).
Fortunately enough, I had passed through this area expedition racing in 2015 and knew of the Paluma DCK Shelter; a man-made and fully sufficient hut located in the middle of the forest. With some kindness from the owner a few weeks earlier, he allowed us this night to stay. It was terribly wet and when we arrived from the 2+hrs trek in the late afternoon, its sight emerging from the bush was a relief!
For better or worse, there seemed to have been a miscommunication about what night others had arranged to stay, and the tiny area with 4 beds had to accommodate 8 of us! It was busy!
Day 8 – Paluma State Forest to Mission Beach
We trekked out in the morning a different way so we could see some Crystal Creek remnants from the former mining days in the area.
Back to the car we made the small jump up to Mission Beach. The area was very peaceful and we enjoyed a long afternoon ride down to South Mission Beach and back for a a pub dinner. A night in the campground cabin was perfect after a busy couple of days.
Day 9 – Mission Beach to Cairns (Via. A Lot)
A morning ride to Bingil Bay was a great start and provided us with an idea of another beach campground to stay next time!
On the way to our destination – Cairns – we made a few nice stops to see some natural wonders along the way.
The first stop was to guarantee we would see a Cassowary this trip – and yep, Etty Bay Beach was what we were told, and that's exactly where we got to see one up close.
The next stop was the Babinda Boulders, which is conveniently the same carpark and walk to see the unique Devil's Pool. Worth the stop!
After a bakery lunch in the little town of Babinda, we continued on to Clamshell Falls. It was quite the walk up to the dam wall along the steep walking-only Behana Gorge Road, and we misjudged how long it would take. By time we were there it was definitely hot and it was time to swim!
We didn't have time to climb up the unique Walshs Pyramid on the way out from the swim, so we just stopped to take a snap instead.
That afternoon we were at Cairns, and clicked over 2,000kms. Another afternoon ride around the waterfront was a pleasant wind down.
Day 10 – Cairns and Surrounds
With a little uncertainty of our plans we booked 2 nights in the Big4 caravan park (and it helped the cabin was really nice).
We did a run up to Port Douglas for lunch and through the Great Barrier Drive. It was so COVID quiet at Port Douglas the streets were absolutely deserted.
That afternoon we hit the trails at Smithfield, which was a blast. Excellent tracks!
Day 11 – Into the Daintree (Cape Tribulation)
We packed up camp with the intention to stay in the Daintree and headed off, arriving 10am. The barge across was free to encourage tourism at the time and wow what an interesting place.
Our first impression was that it felt like we were in another time, like on the set of Jurassic Park. The time we happened to be there meant absolutely nothing was open except for Turtle Rock Café (/Safari Backpackers) at Cape Trib. The roads were deserted (save for fleeing Cassowaries) and the way the rainforest looks like it's about to take over at any moment gives an eerie feeling.
Without anything to specifically see (eg. the Discovery Centre closed); we went to where the road ends, did all the walks, visited all the beaches, checked out abandoned buildings, and decided that we couldn't do any more*/no reason to stay in the one place open. (*Mount Sorrow looks excellent but it was raining when we were there and we had a small child in tow).
We headed back for in the late afternoon to Port Douglas, snagging a very cheap motel room.
The drive route up!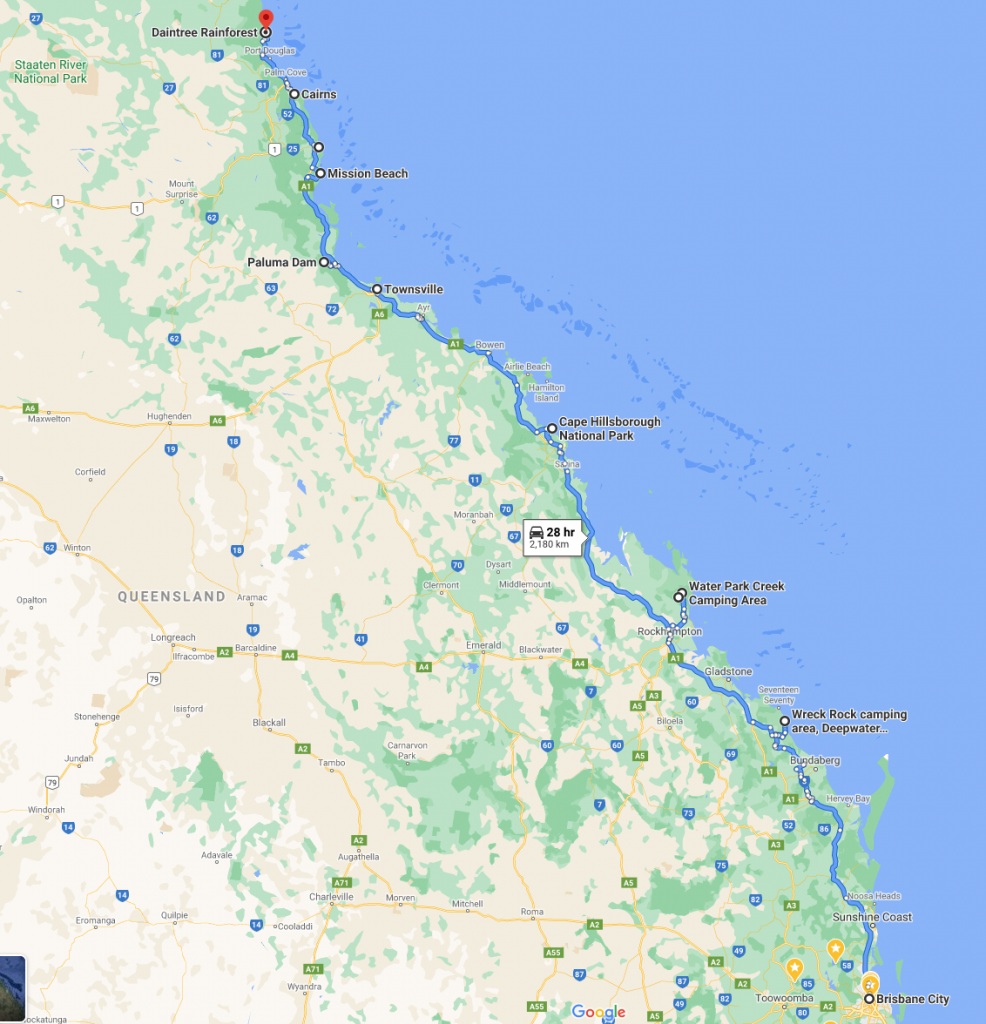 Day 12 – Port Douglas to Atherton
After a really pleasant morning in town, we headed back South. Of note in PD there were not really any reef trips at the time, and a small child doesn't survive all day on a boat either..
Cutting through the range to Atherton we stopped at Davies Creek for a quick MTB. The activity description says it all – rocky! (Also it's not the most well patronised with the A lines overgrown).
For lunch we stopped in Mareeba at Dino's and had the most amazing fare. Such a cool old school deli to stumble across.
In the afternoon we stopped to check out the Curtain Fig and the Crater Lakes on our way to a caravan park. As expected for North QLD it was a bit rainy so we darted out of the car for looks in between showers. There's also a thing about platypus' all through the area but we didn't bother stopping on the side of the road to look.
P.S. We could be mistaken but we didn't see anything appetising for dinner in Atherton town and cooked next to our tent.
Day 13 – Atherton to Millaa Millaa
An early start to have a blast on the amazing Atherton MTB tracks, basically situated in/behind town. What a load of fun it was. Highly recommended! There is a decent spot for coffee in a touristy but interesting train-carriage café nearby.
Our next stop for the day was Windin Falls. It's only 10km round trip walk and it's featured in every brochure (read: Instagram), so there's good reason behind that! (Video of water absolutely roaring down)
We ended the day rolling into the damp Millaa Millaa and grabbed a caravan park cabin to stay out of the rain. Boy was this place was damp, and it is probably soggy most of the year!
Day 14 – Millaa Millaa to Townsville
A slow start and coffee in the one-street town before we went to a couple of waterfalls. If only it was a hot day as there were some amazing swimming spots.
After we went to Zillie Falls and then Millstream Falls. SO many falls.
We had received some conflicting information about reaching Tully Gorge from the North, but it definitely isn't possible by car sadly. Instead we had a great time on the rough and tumble Sutties Gap Road (4×4 only).
The rest of the trip was a cruise straight into Townsville to ready for the next few days adventure.
Day 15 – Townsville to Magnetic Island
Jumping on the early ferry with our bikes we had booked an Airbnb for 2 nights and just enjoyed tripping around, relaxing and a day in the sun.
Day 16 – More Magnetic Island
To unwind you really need 2 days! A little bit of looking around at the fort and so on before more beach time.
The secret beach is at the end of Pollard St, and the sunset spot is on the Nelly Bay Foreshore breakwall.
Day 17 – Magnetic to Airlie Beach
Barged back with the bikes and off to Airlie. It was a long drive day.
Airlie for late lunch and a look around to Shute Harbour before sneaking around the back Cedar Creek Falls and onto our cabin at Conway Beach Caravan Park.
Conway Beach has all the attributes of a great place to hide and forget about the outside world, and the caravan park was in tip top condition.
Day 18 – Airlie/Conway Beach to Yeppoon
I couldn't get enough of this area so I had to explore a little more including the equally secluded Wilsons Beach.
We hit the road and made Yeppoon in the late afternoon.
Day 19 – Yeppoon to Harvey Bay
The ocean front at Yeppoon has a lot of history and Wreck Point has a bunch of information on Captain Cook, Matthew Flinders and a drifting boat (hence the name).
Exiting down the coast was a nice little journey before the big highway blasting South. Again arriving at our caravan park in the late afternoon with just enough time to stroll the beach and watch the sun set.
Day 20 – Harvey Bay to Brisbane
A nice morning looking around, seeing the markets,etc. before it was time to come home.
What a great trip!
The drive route back!
P.S
This trip was a bit of a rush you could say.. We were pretty happy to just get where the road ends at the Daintree, and then have a bit of fun on bikes along the way.
Lots of ideas for next time!