The Apple Isle: Small, Fun, Manageable & Lots of Options:
A good taste of Tasmania can be had circumnavigating the island. The below covers most of the island and includes some tips for those who like to run or bike!
This is more an express trip for the time poor.. With time + campervan you could fill a month(s).
Given it's temperate climate it's a great place to get outdoors and incorporate some exercise, and major roads will scoot you between top and bottom in 3hours on a quality 110km/hr speed limit road.
Bike! Tasmanian Trail: Devonport to Dover & back to Hobart (This is 1 week alone!)

A 7-14 day bike/horse ride or 1 month trek
Via numerous forests, tropical bushlands, open plains, small and large towns. You see the lot!

Hire a car from Hobart (This is 1-2+ weeks depending on nights (and ++if you're in holiday mode))

To Strahan via.

Tahune AirWalk (cut this out to curb a detour),
Lake St Clair/Pumphouse Point (multiple hikes/trail run),
Gordon River Cruise & West Coast Wilderness Railway

To Launceston & Cataract Gorge via.

Cradle Mountain (hike/trail run),
Stanley Nut (cut this out to curb a detour),
Mole Creek Caves

To Coles Bay via.

Lavender Fields,
Blue Derby (mountain bike heaven),
Binalong Bay (Bay of Fires),
Freycinet (Wineglass Bay hike/trail run – the sign conservatively says 40mins to lookout; it's 3kms and takes 15mins walking!).

Back to Hobart via. the coast

Spring Beach/Rehban/Marion Bay (Falls Festival),
Tasman Bay Lookout (view to the Totem Pole climbing site),
Arch/Devils Kitchen,
Port Arthur (cut this out to curb a detour)

Hobart:

Mt Wellington (Hike & Mountain Bike),
MONA,
3 Capes in a day from Fortescue Bay (hike/trail run)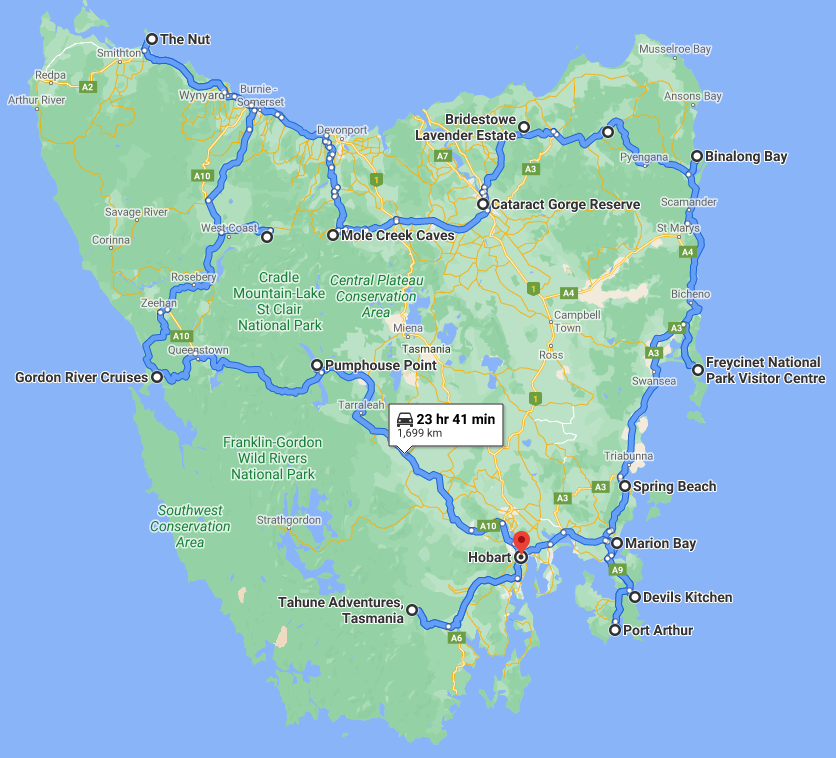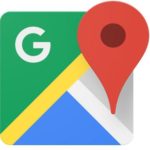 Link to Google Maps possible route as something like this.
Time your trip between Xmas and New Years for..
The Falls Festival 29th Dec – 3rd Jan,
Taste of Tasmania food festival 28th Dec – 3rd Jan
+ end of the Sydney to Hobart ~28th Dec.
After New Years..
Jan 13th MONA Mofo &
15-24 June MONA Dark Mofo
Along the way: Buy apples, other fruit and vegetables, amazing seafood, and spirits/cider/wine!
Our Exact 7 Day Loop Itinerary (FYI)
18 Dec – Hired a car in Hobart

Tarraleah Hydro (Oldina Dr)
Lake Sinclare wander around
Camped the night at Derwent Bridge on the banks of Lake King William

19 Dec – Morning tea at Queenstown

Afternoon tea Strahan historical train trip
Camped the night on the beach at Macquarie Heads (Road)

20 Dec – Breakfast & Gordon River Cruise

Cradle Mountain lookout
Pub accom night in Launceston

21 Dec – Early bike around Cataract Gorge in Launceston

Morning tea Bridestowe Lavender
Lunch & MTB at Derby / Camping by the river

22 Dec – Derby MTB all day ??‍♂️
23 Dec – Morning tea at Binalong Bay

Lunch on the wharf at Bicheno
Afternoon walk around Freycinet National Park (Hazards Beach loop)
Caravan park camping at Trinabunna after fish and chips on the wharf

24 Dec – Dirt coast road past the Falls Festival site

Morning Tea at "Pirates Bay Drive" Eaglehawk Neck lookout
Tasman National Park (Devils Kitchen,etc.)
Richmond wine estate for lunch
Back to Hobart

25-26 – Hobart, MONA,etc..
Blue Derby
To ride Blue Derby in 2 days: Follow route 7 on day 1, and route 8 day 2 – hey presto you have done it all!
The shuttle is some $75 to get to Blue Tier. If you have legs, ride up via Poimena Rd (I made the mistake of Emu Flat Rd, it is tough going and not recommended!), and + 3 hours for this option.
Route 7-ish slow: https://www.strava.com/activities/1321601894
Route 8-ish fast: https://www.strava.com/activities/1322692624
Of course, you can make a holiday of it; camp by the river (free), use the public showers ($1), bike wash (free), and just chill out.. There isn't much else to do unless you ride!
Route images from, and see more about the routes here: https://www.ridebluederby.com.au/choose-your-adventure/