September 2021 –
Thanks to Spicers in June 2020, a new trail was opened allowing you to traverse across a full length section of the Scenic Rim (Great Dividing Range), affording views off the specular range looking back to Brisbane.
It's a near-term achievable (new) bucket list item – it's so close to Brisbane and only takes a day to knock off! However you need to swap cars with someone or do 90kms return! Prompted by good mate Liam and run mate Geoff, we had the opportunity to swap cars with other friends doing the reverse trip.

The trail's suggested route is North-South, however we did the opposite (Cunningham's Gap) South to North (Thornton View Trailhead), which to be honest seems like a better way to go as it has a bit more of a downhill feel to it and the Spicers camp with its stools is a nice rest spot for lunch. (*Note: Thornton View Trailhead is not really car friendly, you'll hear a couple of scrapes over bumps).
Whichever way you go, here's the Scenic Rim Trail Map you should print (ideally A3 colour/double sided) to take with you.
There's nothing to this one; a bit of single trail, open fire roads, and just one 'tricky' turnoff to miss at the Cascade Falls (track) section where Spicers made a link that branches off. We missed it but with this reminder marked, and/or a GPX you should be right.
Here's Liam's cool 3D view of the trail which you can speed up and drag to change the view: https://ayvri.com/scene/dk3z6w6r5x/cktgbhzmv00013a6is3ugh2rn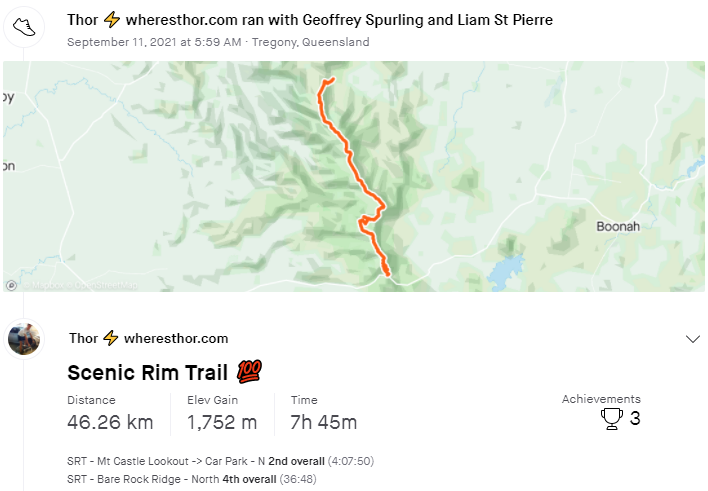 Enjoy!