January 2021 –
Its hot, we need fresh air, we need refresh-ing! When you're feeling adventurously lazy, Tambo is just so easy (to please you) scooting between several lush walks with very little/zero effort and planning required… And you can start late and still see it all (if you want).
Coming from Brisbane, we came via the Yatla BP Exit off the M1, which is a nice way to wind up through the country side following the signposts to Mount Tamborine.
A trip in such a small area can be done in an order really, and if it's busy at any of the proposed stops, you can drop it and leave it for another trip!
First stop: Cedar Creek Falls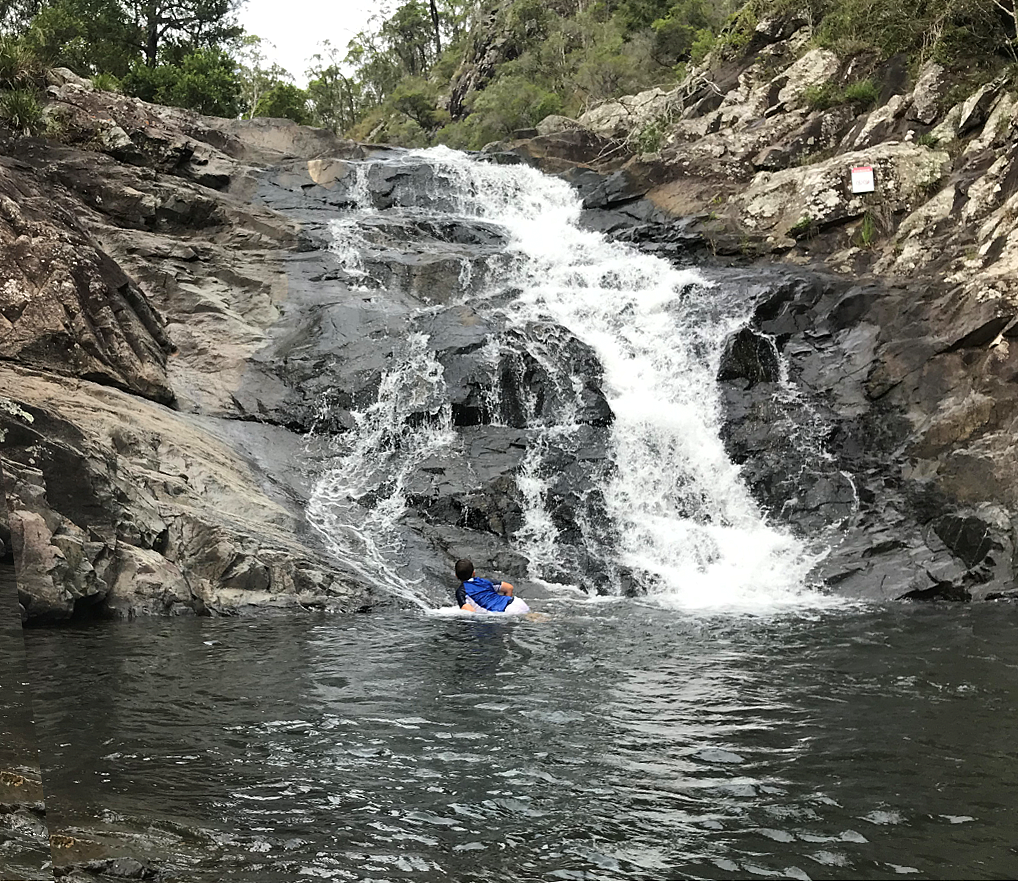 Off Tamborine Mountain Road is the signposted skinny Cedar Creek Falls Road down to the carpark and picnic area. We were lucky to snag a car park down there but it's very limited and understandably, people just park up the top near Thunderbird Park and walk down without bothering to try for a closer spot. (Thunderbird Park may also be a good day trip option for people!).
A short walk via a lookout over Cedar Creek, gets you down to Cedar Creek Falls. It's likely to be a bit cool but that's the best bit! Very refreshing, and just nice to sit there and take it all in/take in all the people scrambling precariously high onto the rock faces to jump down into the pool.
If you do this trip in reverse, you have a nice swim at the end!
Second Stop: Curtis Falls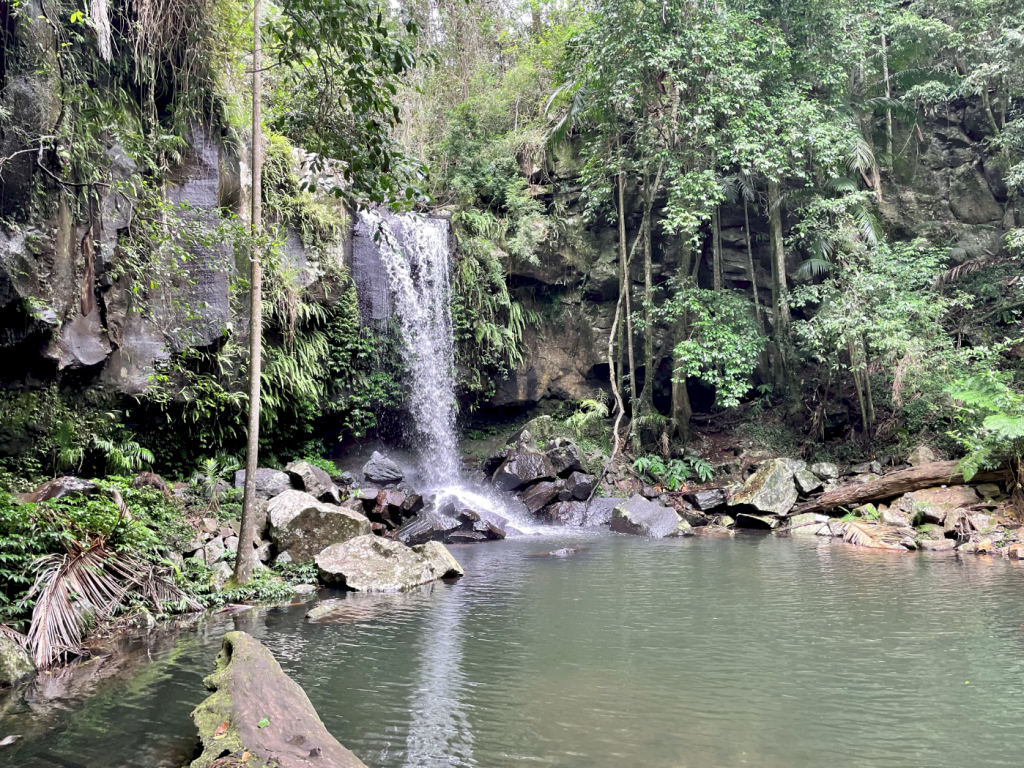 Using the sneaky car park just off Eagle Heights Rd after the shops, you get to add a bit to your walk and end with an ice-cream!
This walk, hugely popular, is absolutely spectacular. The falls are amazing, as is the loop track through the rainforest has that Jurassic Park remote feel and there's a bit of wildlife spotting to do too.
Third Stop: Sandy Creek Circuit
Following Sandy Creek it's a short 2.5km walk that pitches you out at the Cameron Falls lookout, looking through the trees at the falls and North West onto the range and suburbs in the distance.
The most popular walks on Tambo are sure to include falls and a good lookout..!
Fourth Stop: Witches Falls
This is a 2 section walk, firstly of the Chase Track 2.7km where you can park, and later the Witches Falls Circuit (loop ~3km) where there's also another car park and a few more facilities for a bbq.etc.
Again there are great views from the loop heading down, a bit of rock hopping and stairs weaving back up.
The lookout/viewing platform rewards you with a close view of the falls as West into the hills. As most people suggest it might be easier going clockwise so you are going down the steps and back up a slope, rather than a stair slog.
A very rugged walk, and ideally some water in the lagoons!
Fifth Stop: Palm Grove Circuit
A short walk with multiple entries. From Palm Grove Avenue you head straight into the track over a water crossing (Jenyn's Creek) as you start a loop around Jenyn's Circuit, of about 2.5km + another 4.5km.
Beautifully subtropical, there's a very dense palm grove section of course, and a more dry section. Some glimpses through the trees to the GC.
Sixth Stop: Mt Tamborine Tamborine National Park MacDonald Section
Reading around there is a short walk via a strangler fig.. They say it's often overlooked. We overlooked it!
Seventh Stop: Tamborine Botanic Gardens
We actually brought a pack lunch and snacked at the Gardens before weaving in and out of the different sections.
You can spend very little or a good amount of time here, particular if you have kids.
Alternatively, lunch at one of the many many places up on the mountain top!