Pre-Speil
Chief team organiser, Tiger Trevor Mullins asked me to join his team as they had their navigator stuck in NZ and unable to get across the ditch. Happily I was joining Trev and the Pocket Rockets Sara and Nicole.
I would say I was fitness ready, so that was OK, but poor Sara had a terrible lead up with shoulder surgery, and then embedded stones in her knee doubling its size just a few weeks out. Suffice to say, you wouldn't have known during the race as she was such a silent soldier..!
The Race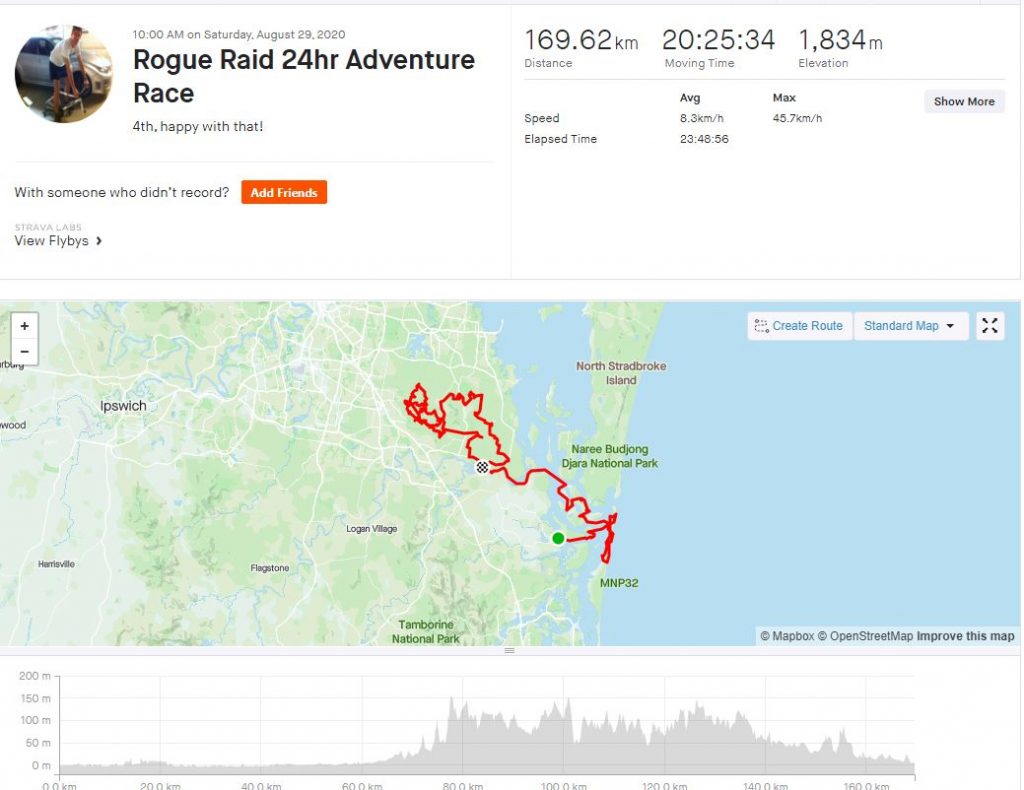 Leg 1 – Kayak – ~15kms
Local to many, this course started with a bus and Jacobs Well for the 10am kayak start. It was a picture perfect sunny day, the tides were favourable, with just a hint of a headwind wind picking up.
We launched! Nicole and I jumped out of the gates and the field soon sorted itself out and Trev/Sara were on our tail as we went with the tide to the first couple of CPs via a little portage that made it worth it for the points.
Leg 2 – Trek – ~17kms
Sitting in maybe 4th place hitting South Stradbroke Island, this was to be our ultimate final position. The island jog was actually quote hot and demanding on some of the soft sand in the sun, and I was blitzing through my water bottles.
Unfortunately I created my own navigation error – the map was cut off by the black top lip of the map case so I completely missed a feature and (nearly) a more distant CP still to get – Sara saved the day to correct me thankfully.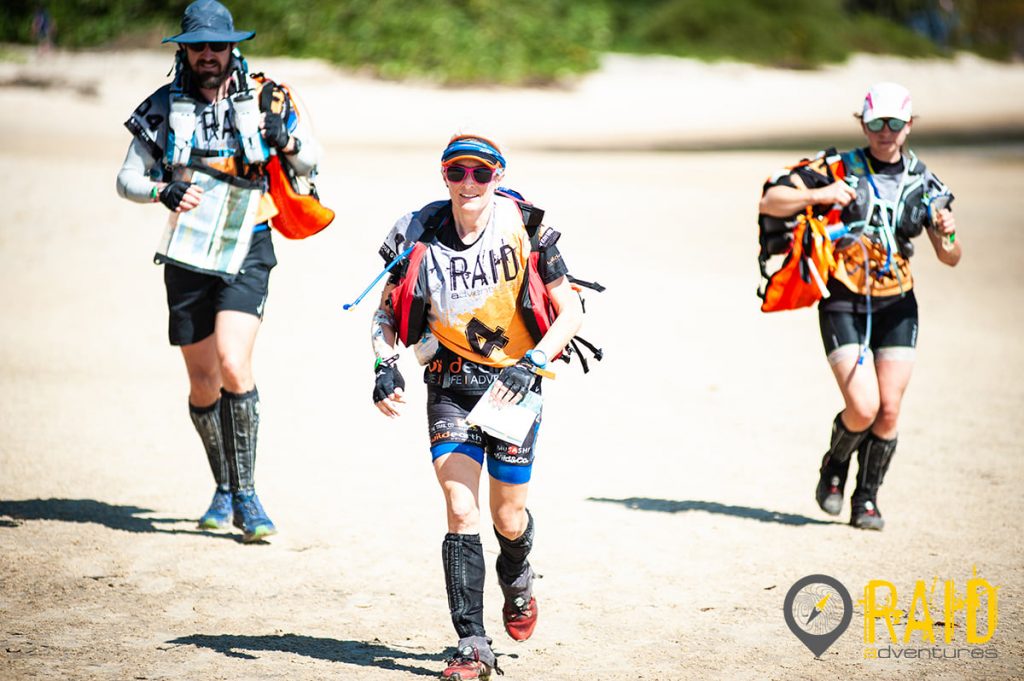 Leg 3 – Kayak – ~35kms
This went to plan which was excellent, we hit the CPs really well and also navigated the channels to sit in the best spots according to the tide and shortest route (Nicole applying her NZ whitewater experience to pinpoint our best direction). At one point we had to duck around a corner against the tide and wow it felt like we were barely moving – suggesting we'd have a fast finish with the tide.
We had hoped to have the final hour along the Logan River in light but arriving at dusk, we'd be finishing the paddle at night. With a 30km/hr afternoon wind still around it was very cold and we all had to don our jackets. A moment of question appeared in the river when a CP was relative to an island, except there were 2 identical islands on the ground and only 1 on the map. Only a few minutes lost though and we were on our way using efficient race lines winding to the TA.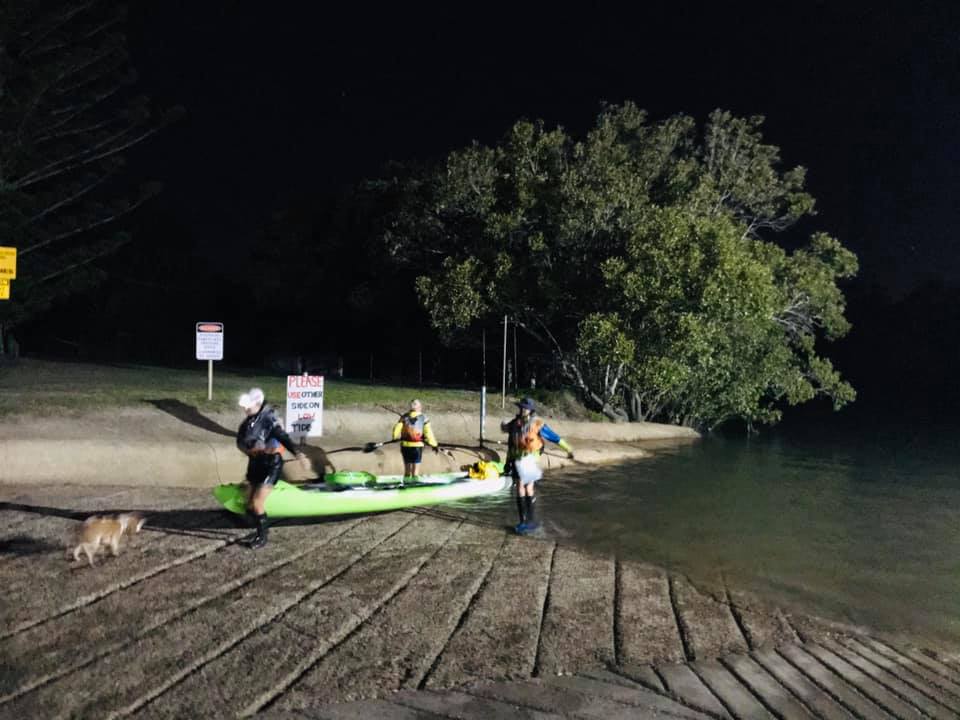 Leg 4 – Bike – ~45kms
The kindest of people, Di who is Trev's other half had conveniently left hot chips on the table at our TA area. That was a real treat! Changed and refreshed we headed on our way.
We missed one of the early turns but in fact the rest of the ride went pretty well, save for one CP we lost an hour(!), and a bit of over analysts/slow nav.
This was a big loop of the Daisy Hill MTB tracks and the track names were printed on the map which made life easier. Small hike a bike sections broke it up and the forced single track is always welcomed for some fun.
The finish was at Venmans Bushland Reserve which was just past where I grew up some many moons ago..
Leg 5 – Trek – ~25kms
We started with a bang and had a fairly smooth experience for the first half, ultimately stopping halfway at a CP to re-assess our plan, where we decided to drop a few further north and start the journey back to the TA.
Bumping into the ultimate winners Thunderbold, they flew past us in a display of what makes them #1 in Australia – they are seamless as are very good and making calls on the run whilst we stopped to confirm our place,etc.. Around the same point Trevor mistook a road dead end as a small lake which was a hilarious 2am moment!
Somehow within cooee of the TA and collecting our last CP, there was a complete blow out moment where we spent ~40mins looking one track intersection too early by no explanation except it was 4am and possibly just not thinking that sharply. As soon as we were out of a creek line and oriented, we did the 20min round trip in and out to collect it from exactly where it should have been.
Back to the TA the sun was up and we realised it would have to be a compromised ride back through the Bayview MTB area.
Leg 6 – MTB – ~35kms
With the morning light to guide us we cruised around to collect a final set of CPs that were 'on the way' back to the finish line. It was a bit of a rough journey but we got them all without drama and nailed a few immediately which is preferable…!
With about 30mins left and a 20min journey we did the road dash back to the finish line, happy with our effort!
P.S
All in all, first place was never really going to be contended vs. the top guys. Second place taken out by a great team and top navs, third taken out by an also good team with a load of local knowledge. 4th was probably where we should have ended up as we did. Clearly I also need a bit more sprint nav practice, as my slow nav was suitable for maybe an expedition, but time means too much in a 24hr race.
What meant the most is that Sara didn't blow up from pushing too hard on the kayak (likely where we could have got more value for the time/distance/points) since she hadn't been training on the kayak, and with her knee we didn't need to find the point the trek or bike it would blow up either.
Mind you we are all competitive people and doing better is always ideal, so a second time racing as a team I think we will really give a race a proper nudge..!
Loved the opportunity to race, and the stress Liam the Race Director would have gone through to make it happen, and the course really opened our eyes to some other great spots to visit again sometime.