Pre-spiel:
This race has always been 'fun', with a 2 person format and an atmosphere that everyone is there to just have a good time.. This year, not so much.
As an inclusion in the Adventure 1(A1) series, all the top Australian 4-person teams were there, and in a sharp team myself it suddenly felt very serious!
In what I call an 'adult treasure hunt' format, the Rogue has teams choosing their own route to collect checkpoints weighted with different points – the most points after 24hrs wins (it also means, unlike a linear course Adventure Race, you can finish early but at a cost of collecting more points so there's a good chance you are our there for the full 24hrs).
Having said I felt the seriousness and pressure this time, it was probably the easiest start line for gear preparation days early (for a change) and it was just 40mins from home to the race start, yay for a sleep in.
The Race:
With maps in hand we started planning, the first knack was choosing to run the 2 foot based points first before the following bike leg, or jump straight on the bikes. The rest of the planning involved awe of all the rolling hills.. Hills and hills. Eeek! At least some of it familiar.
It was pleasing to see the inclusion of my 2 favourite MTB tracks; in Samford the "Kombie" and in Bunya "Jurassic", and with epic single track that's +2pts to Liam the race organiser (many -ve points in jest for all the hills!!).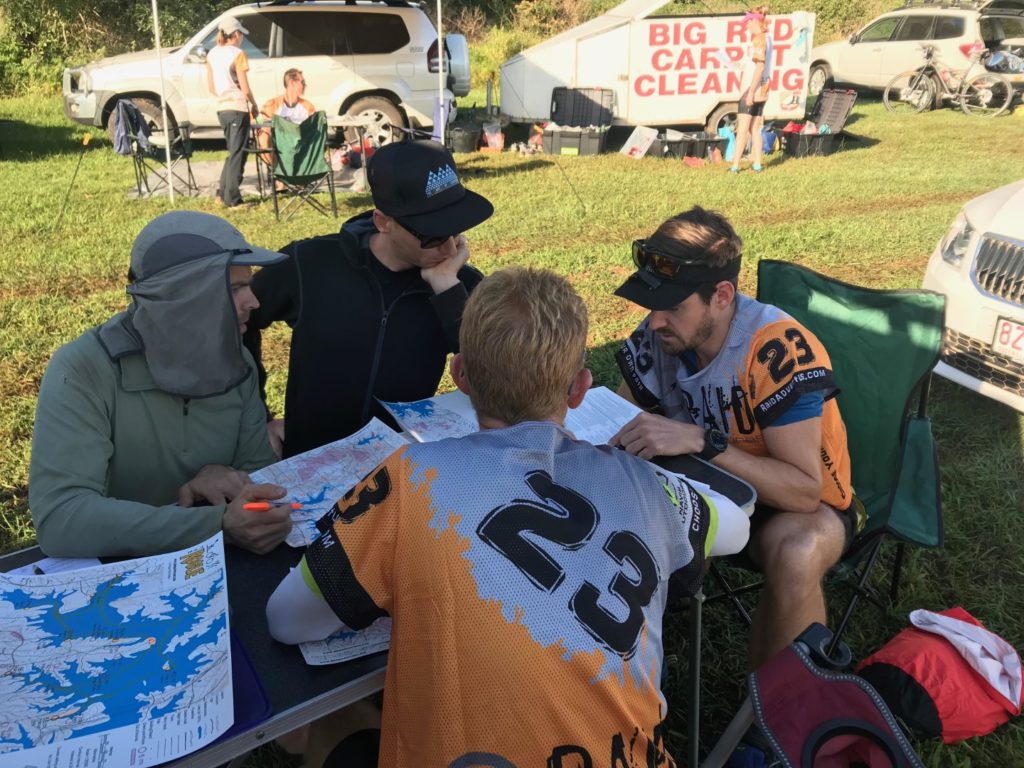 We took off at the race start, heading for 1 of the 2 foot CP's we had for our 'strategic plan'. The frantic run pace was quick and soon we overshot the turnoff into the bush. Lesson #2 was that high tide on the map was different to the current water level; noted. We'd try not to make that mistake again – guaranteed we weren't going to repeat the first 'running too fast' mistake.
Soon on the bikes our foot error had us mingling with a bulk of the teams, then my gear shifter became very loose and we tried to find a good spot to tighten that up. Further along the track, Darren on our team had a rear tyre looking flat and we flapped around pumping that too.
Sinking back further down the ranks we carried on at our own pace which was still quick enough, and possibly a point of grief for poor Paul who was not the regular group rider of our team – Oskar as the bike fanatic on our team meant at least 3/4 of our team was okay with a bike-bias race!
Whisking through the area that is my Tuesday group road ride region, I was reluctant to see Mailmans Track and other very steep climbs feature on the course. They are hard enough on a 2 hour session let alone 2hrs into 24!
Climbing our way back to ranks it was fun to be in the thick of winners Thought Sport & other AR heros Thunderbolt. Clearly from looking back at the GPS tracking they are very good at getting in and out of a checkpoints and moving on.. Lessons lessons.
Arriving at the transition to the Kayak at Enoggera Dam it was one of a few 'could be better' transitions and we wandered down to start our paddle. We had one faster kayak and one tub kayak which Darren and I laboured on with. Again GPS tracking shows the good teams were in and out of CPs quickly, paddling all the way in quickly then fast into reverse rudders out of the way,etc.!… Perhaps I'm being picky here, we did have a good race so now I'm getting nitty about what the gap is between us and the pro's!
We started the trek in the afternoon light which was on our schedule to reach 1/4 of the way through before darkness fell. The trek around Enoggera Dam is Paul's backyard and he took the lead – not that it really helps you find a checkpoint randomly in a gully.. But his nav is that good anyway! And at this point I should mention that the whole race was done in good humour; whether it was banter and grief about our transitions it was all pleasant and made for a great team environment to be motivated.
This trek area so close to Brisbane has some very lush vegetation and picturesque streams that you could ordinarily travel a lot further to find. So much was it enjoyable, just 4 days after the race I went back out with my girlfriend to grab some of the checkpoints to share and experience it all again – another +2pts to Liam for helping us discover that (he's still in the negatives overall for the hills).
On the trek we spent some time with the Wild Women and they are magnificent as a team of 4 who are always very successful and put in the work and earn their place – they finished just behind us in 6th overall. They shortcut some of the trek as we did, opting out of 2 CP's on the extreme of the map, as we all hoped that it wouldn't make much of a difference in the end vs. the time cost to collect. Sticking to the plan we collected the rest of the CP's in the dark and arrived back after some 20kms around 7pm.
Transitioning back onto the bike we left just as Mr A1 Todd, turned up waving a bunch of garlic bread and pizza around in the air – damn that was unfortunate! Inceptioned into our mind, the quest to have garlic bread and pizza would weigh on us many hours later.
On the bike again it was into the dirt hills with a very tricky start. Judging by the spread of bikes dumped along a particular stretch of track, we weren't the only ones looking for an elusive CP that sat off a ridge – the 25m contours made finding a creek junction very tough. With lights flying everywhere we decided 'let's just exit up this creek on our way to orientate'.. And there it was. Onward!
The next series of CP's is a blur of hills. Some were definite hike-a-bike and we mingled some with a Veteran team of 2… How they did this race is astounding.
Thankfully the dirt hill bike hiking ended and smatterings of bitumen took us back to the dusty driveway to HQ/TA.
We had to make some new decisions here, in fact in planning I think we were still unsure of our exact strategy, and we knew we wanted to get out on the final kayak leg after this run. Both out and back, the driveway from the main road seemed a lot longer than we remembered, and we pushed out to some far flung checkpoints, with Darren at one point on autopilot straight to the mark, while Paul and I straggled behind.
Making a call to drop a high point CP just a little further might have been regrettable on reflection (we just couldn't get around the kayak course later as much as we wanted), however at the time it was a good idea and the following CPs came easily.. Until at daybreak just after seeing the Wild Women below our ridge we went too far along a point to the water. Oskar decided to completely bash a new path through immensely thick lantana at a right angle off the track – I would have said bugger it we're all turning around!
We made it out of there on the nice path the Wild Women had been returning on past us earlier… (Checking the GPS tracking it would seem they did a similar thing to us, and must have had a laugh as we forging ahead into the thick scrub).
With our last foot CP down (after 12+ hours of using just legs!) we were just left to paddle once again.
Onto the boats we found the wind had come up though it was nothing dramatic – as we made our way to the first island CP it was strange to see a boat going to another island with no CP that way and it turned out to be 2nd place Wild Earth – I feel sorry for Garry who was pretty disappointed afterwards.
Moving along I started to get sleepy although the paddling aches disappeared and we trundled on to a shortened version of our (many) plans, to finish with quite a few minutes spare. Turns out the those minutes didn't matter on the points table so hooray for being lazy/"CBF" (although that not an okay way to race!).
All in all, it was a tough race for the legs… The bike sections were huge and challenging, so it was another testament to AR's "just get on and do it". The team had fantastic synergy and navigation so there is little to complain about really! Nice one boys.
[A funny note on the picture where we are receiving our 1st men's trophy – Paul is nonchalant as he says he probably has the rest of the tree at home 😀 ]