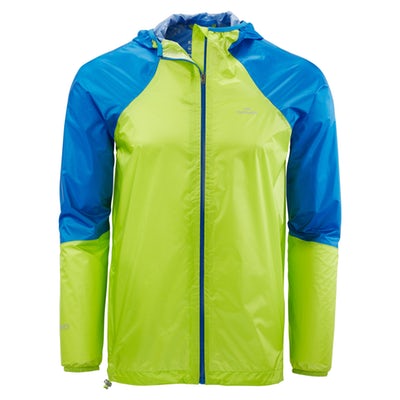 Ticking all possible boxes for race mandatory gear (NGX: windproof, waterproof & breathable), this Nylon jacket at "170 grams" (size m) is an absolute winner.
Pros:
Extremely light
Packs down into its pocket
Small form factor
Chest clip to hold the zips together when unzipped (very cool)
It's actually 164grams 🎉
Price/Bang for buck
Actually works! Excellent waterproofing, breathes well.
Cons:
Rips easily; I caught it on a tree twig. It's the lightweight material. Alas, back to the shop to buy another one 😫
Only 1 pocket, on the right. For all it's weight saving, 2 pockets would really complete this jacket
Hard to stuff into, and get out of the pocket stowage, especially when in a rush
Overall this is the ultimate jacket for "tick the box" race gear, and works when you need it.
For AR, it might be something carefully balanced between a proper Gore-Tex jacket for hard wearing when you are going to be rubbing/brushing against it.