Pre-Spiel:
If you are going to do a 50 kilometer run it might as well be a good one.
The Wild Earth Coastal High 50 run from Binna Burra to the Numinbah Valley and back up to Springbrook sounded enticing – it sells out quickly as a popular race because it is very hard and hilly, and just very different with its scenery from dry barren areas, rainforests, to dense bush.
Yes you can do the same 50km by yourself and anytime, the question is whether you would prepare properly and have as much fun on the day knowing you're in the race itself. Entered ambitiously in the 5:30-6hr category it wasn't until reviewing the course in more detail and reading "add 30mins to your expected time" that I'd set myself up.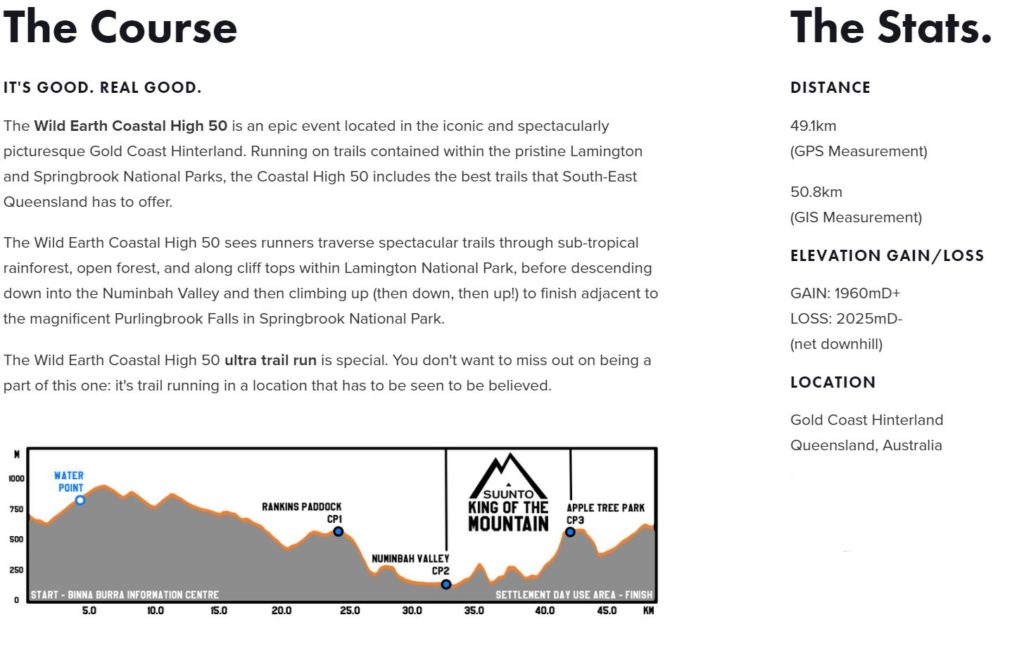 What was a training plan fell to pieces 6 weeks out from race day when I had back to back influenza which put me on the couch for 4 weeks and then left me 1 week of small darting runs, before a final 'taper' week.
I'd really wanted to prepare a little bit better than 2015 when I agreed to do the 52 km Flinders Tour which I entered in error/underestimation of what is actually required from usual Parkrun 5kms, to 10x that. That race, it all went wrong after 30kms and by 37kms every muscle in my body cramped including my forearms and then my neck when I went to drink. Some three hours after the race finished I finally needed a toilet, producing blood. I would still call that race the hardest thing I've ever done. And not to be repeated!! It turns out I got close to repeating the performance.
The Race:
Now, I 'm not a runner, and was hesitant to call this a "race report", as I really think maybe the first 10-15 people were actually racing. It is really tough! Everyone else is in a battle just to finish/accomplish personal goals.
Nutrition Plan: Solids (broken up Cliff Bars) for 1-2 hours, Semi-solids (+salt Cliff Blocks) for hours 2-4hours, gels (+caffeine Cliff Shots) for 35, 40 and 45kms. All hydration powders are within crumbs of each other; trusty Hydrolite Sport in the water bladder.
The start pace of Wave 1 was frantic; I had set a fast alert on my watch for 4:45min/km pace and it repeatedly beeped at me to the first 5-10mins – ignored as it felt like everyone would run away from me if I didn't keep up! (first mistake). Then there was the first hill.
After starting on a down slope, the course turned around back up to Binna Burra Lodge as the first leg test, and at some point I got a stitch which ended up lasting until the 8km mark.
Once past the lodge and into the bush there was a little bit of passing to be done before a good rhythm with a bunch lead by a friend of mine Tom, as we headed around the Ship Stern Circuit. This part of the run is absolutely spectacular! This is everything I hoped for in the run; the picturesque scenery, darting along cliff edges, before dropping into a rainforest area at approximately 15 km.
It was at 15kms that there were a couple little steps and the first time to slow down. Slowing down makes it hard for me to get going again and by this stage it was two hours in and my first cramps appeared in my toes.
I keep the pace going with some guys who were aiming for max 6 hours. (Second mistake) That was a bad idea. Eventually making CP1 some 24 km in, people were standing around also commenting that they are a bit stuffed, cramped and I had started to feel the same way.
The next section was a huge downhill, and my quads and calves were both giving grief. From this CP1 I knew from reviewing the course this is where you had to assault the downhill before keeping pace on the flat of the Numinbah Valley road. A gravity fed opportunity is rare and a flat road section is also rare… Helped with my six hour buddies – and their random magnesium spray – the cramps went away for a few kilometres to sustain the cracking pace, but hitting the Valley road was just too tough to keep the pace in the low 5min/kms which was necessary.
A few fresh water crossings were great, and an opportunity to pass people daintily hopping stones as I just plowed through, reaching CP2 and the fudge shop – I would have been happy to finish the race right there. Oh, shattered.
Soon after CP2 a climb up a steep Chesters Road approx. 32 km in, my left leg fully locked out and I started hobbling up the incline like a pirate with the pegleg. Having done this section once before at 7:30min/kms, it was now was extremely tough 11min/kms and then another big downhill I just let go as fast as I could just to try and regain some time.
Unfortunately with this sort of distance, every little block of extra effort made early, you take off your blocks of effort available at the end.
It was the next part between the downhill back of Chester Road and the start of the climb (before the Apple Tree 90 steps) to the Walkers Camp that was great unknown and a the real back breaker for me. One incline was extremely sharp and loose, and a couple of guys I passed commented about being completely broken. I agreed with them! Chugging on a little bit faster I made my way down hill to a couple of stream crossings before starting the climb to Camp, and from Camp up to Apple Tree.
The Apple Tree stairs I'd done before, and having done a lot of hill walking in the last few years, I could block the difficult of that out of my mind. That's not to say it was easy! Up the top of the stairs there was not much jogging to be done/possible to the next CP3. This aid station I lost a few minute by filling my water bladder up and subsequently squeezing all the water out when I put the pack on, due to not screwing the bladder lid on properly.
Those few CP3 minutes were a welcome break, so pushing on from there onto an open grassy section with slight uphill rollers felt a little bit better. Mind you, it is still extremely tough and slow, I was tired and sore (having spent from 30kms running alone, in this field with no one in sight I literally burst out laughing at my stupidity!). Dropping down through a really nice rainforest area via some switchback trails involved a lot of down 3 steps-path-corner, down 3 steps-path-corner,etc., which made it really hard to keep a rhythm and keep any pace. It was beautiful however, and this was all a hard function of being broken – to jog this lush section should have made for a really happy memorable race. (Writing this on reflection now with pain eased, yes it was great!).
And of course you look up from the base of the hill you switched down and on the other side there's some serious uphill left to do. For me at that point it was somewhat demoralising, but what else are you going to do and just 5kms left! I just had to keep any pace that was anything more than walking, but between here and the finish a few people passed me looking fresh while I crumbled – running at 11-13min/kms is double what I can normally walk.
Soon enough switching back up, the top was in sight as tourists indicated a lookout nearby, and then "just 1 more corner" says a marshall before the open grassy straight to the finish arch and waiting Race Director. Relief!!! Wow, Coastal. Hurt. 50. That was tough.