Pre Spiel:
With a callup from Chief Tiger Trevor Mullins it was nice to be offered a spot in his own personal team – TAFC !
The team comprised my 2-person race mate Sara from last year, and 2 new friends; Wayne and Caine. We would be racing as a 4 in the Adventure 1 Series, which I am happy to support – it has brought some great structure to the sport, live tracking to this particular race, and much more.
The Race: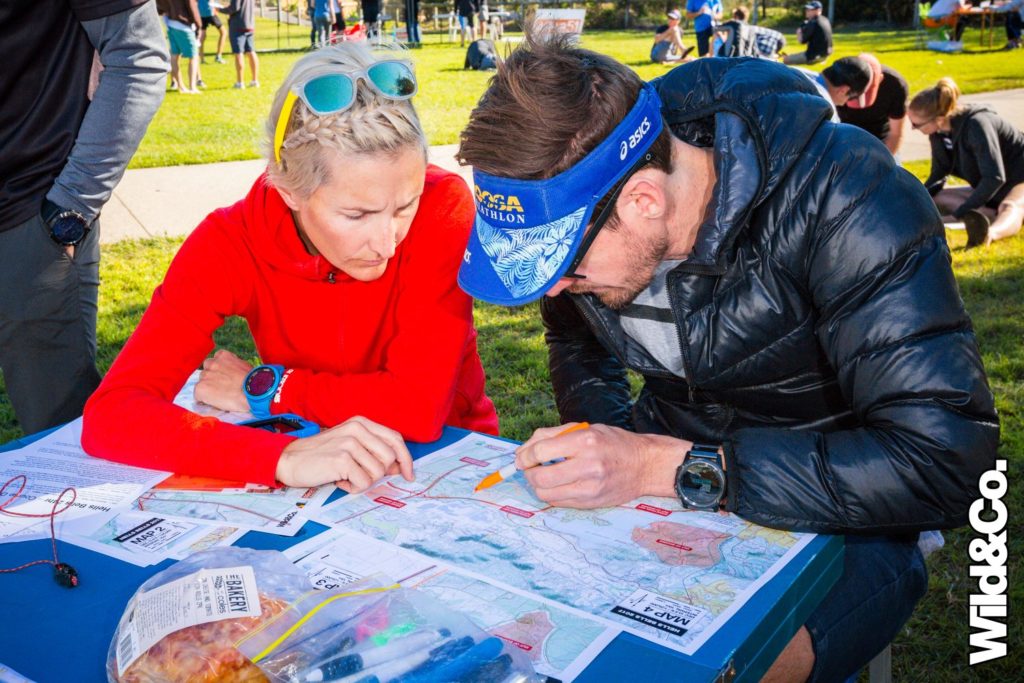 The race started 11:30am with a short Caloundra Esplanade run as a foreshore jab to work up enough sweat before cooling off for a bodyboard leg across to Bribie Island. The bodyboard was short and a low tide provided sandbar breaks across the ~1km gap.
Out of the water to the island beach all went well finding the Checkpoints, as we ticked along keeping a nice pace to the island North point and back South, hovering in the top 5-10 places.
An hour or so in I mentioned hesitantly a weakness – my hip flexors were unusually sore after some 20km of beach jogging, but soon I was relieved to hear reassuring echos of my teammates – sand will do it to you !
Cruising into the TA to swap to the kayak leg, we learned that race supplied paddles Sara and Caine required were not there – the official line was other racers had taken them, or something to that effect.. In reality I think they just forgot to bring them to the Transition.
We were told there was some 1 hour wait(!), which really ruined the rhythm and the bigger knock-on effect in loss of daylight later in the race. A mosquito slapping hour later after a self inflicted yoga session, we started the paddle after being told to scratch some 5 CP's due to the tide/mud situation.
Navigating the sandy and small-island filled channels of the region proved interesting to see what was around the next corner as we crashed into sandbar after sandbar, each hiding beneath the water. All hope was that we could paddle hard enough to get the boat through, but the reality was most of the time having to stop, drag the boat through shin-depth water, then jump back in for 5 strokes until the next one surprised you (memories of XPD).
One shore CP required a mud-flat slog that instantly sunk legs, buried to your knees before attempting another difficult step – the last distance of that one we sent ultra runner Caine to get haha…
With the sun almost down the chill in the air was apparent and we kept pace to finish the leg as soon as possible and jump on the bikes.
Launching bikes into the darkness of the Beerburrum State Forest, I knew the nav would get tough in the maze of tracks. After trying some short-cut navigation, it was decided to stay to main tracks as the pine forest floor was just too soft and unpredictable to maintain speed for the shorter distance benefit. At some point here the nav wheels fell off, but only momentarily as we picked back up and headed under the M1 highway to continue north to Ewan McGregor Dam.  Parts of the forest played mind tricks on us, as tracks apparent on the map would be less substantial/non-existent in real life.
Always learning some nav lessons each race; I took away from this that I need to spend time in planning thinking about easy and quick option B's even when it seems straight forward to follow a "road or track" on the map.
After a few big wins and big losses finding CP's, it all evened out and then we picked off a few really easy ones where teams were bunched around bewildered. Clear of a few big packs of teams I absolutely loved the single track MTB – it was awesome and we scooted the dam waters edge collecting more, up and few big hills getting another couple easily despite a navigators usual cry 'it's not supposed to be there!'.
Heading into Landsborough town the TA was the bike drop for the next trek leg.
The next trek was an 'any-order' format which is always a great to nav battle vs. other teams with what they think is the best route. Warned about a cliff on one part we thought we would leave that until mid way through, then clear a few others on the way back. Having lost that time on the beach in the afternoon, we had the fortune of a greater number of teams making elephant tracks scratching to a few easy early CPs, then there was one at an old railway tunnel.
Nav lesson: sometimes you need to think in 3d.. Teams passing on our way couldn't find it, and once on top of a hill (spot-on where it should be) it was a non-existent CP – until it made sense it was in was the tunnel directly below! We had to just make our way around, down and in, to collect it directly under where we were minutes earlier. After 12 hours of racing the fog of fatigue creeps in to make things like that a little harder.
At this point also the fog was thick around Caine as he admitted struggling; much to the amusement of the rest of us. With Sarah having an ITB issue we pushed on at a steady walking pace to the 'cliff CP' which had instructions about which direction to approach,etc.
Bashing through thick scrub we hit a dry creek bed with another team, as we contemplated which way next. The other team launched up a hill through more really thick scrub whilst we followed the creek against some wait-a-while. Fortunately enough after a 20mins we popped over a hill to the side of the creek, landing into another creek on top of a small waterfall; at the base the CP awaiting! A bit of luck with that one. And also a too cautionary warning from the organisers as 'bottom of a waterfall' would be better than painting a picture of it inside a gorge with sheer walls.
The balance of this leg was a matter of process and we made it back to the TA as daylight commenced.
The final leg! Onto the bikes to the train tunnel and dropping down around more of the dam, we eventually popped onto the road and made our way to a curious farm section – a place in darkness that had caused havoc for the top teams duelling for 1st & 2nd. Escorted by a race official car to a gate, the farmer came up in his X5 to say he no longer wanted teams on his land. It was a big waste of maybe 30+mins of bantering and detour but we were so close to the finish, we just needed to do what was required so we could end it!
Eventually we did, some 20 hours later; always a relief and in 9th spot. Great race, great team, a few frustrations of waiting and my own nav, but that's AR!